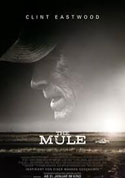 Opening 31 Jan 2019
Directed by: Clint Eastwood
Writing credits: Sam Dolnick, Nick Schenk
Principal actors: Bradley Cooper, Clint Eastwood, Manny Montana, Taissa Farmiga, Andy Garcia
Director/star Clint Eastwood's swansong is breathtaking, balanced, and beautiful. From the opening shots of renewal, it is obvious The Mule is special. Nick Schenk's carefully crafted screenplay adaptation is from an article in New York Times Magazine, "The Sinaloa Cartel's 90-Year Old Drug Mule" by Sam Dolnick.
Earl's (Eastwood is fantastic) prowess with flowers is renowned, equal to his humor and geniality. Winning the horticulturist convention's 2005 Gold Medal, he snickers at an internet salesman's pitch. Twelve years later, it is no laughing matter when his property is foreclosed. Dropping by his granddaughter's (Farmiga) garden bridal brunch, Earl's arrival coincides with his alienated daughter (Alison Eastwood) and ex-wife (Dianne Wiest). Furious, Mary's face-off with Earl is impossible for Ginny, and guests to ignore. Huffing away, a brief conversation with Rico (Victor Rasuk) triggers a glimmer of hope.
A brief interview in El Paso, Texas, and Earl has a job. His friendliness glosses over Earl's lack of experience; still, the delivery is, "Just a one-time deal." Concurrently, DEA Special Agent Bates' (Cooper) new boss (Laurence Fishburne) puts him in charge of a task force apprehending drug smugglers. Bates and partner (Peña) get down to business immediately. Meanwhile, as the size and number of bags increase, so does the size of pay envelopes; "Tata" (grandfather) even meets the Boss (Andy Garcia). Then, demands intensify inside the DEA, boundaries shift within the Cartel, and Earl feels the pressure, and trepidation: "Do what you have to do" resonates.
Eastman's portrayal is partially fashioned around his grandfather, emulating his walk, and posture. Leo Sharp was a world-famous horticulturist, World War II­­– not Korean—war veteran with no previous criminal history. Likewise, Schenk modifies facts to fit Earl's backstory. Adding to the film's imprimatur are gorgeous cinematography by Yves Bélanger, expressive music by Arturo Sandoval, and outstanding editing by Joel Cox. Following Earl's adventure, The Mule shifts nimbly from engaging, to engrossing, to enthralling. This colorful, independent, nonpolitically correct plain talking geezer's awakening makes for a powerful ending. If indeed a swansong, then Clint Eastwood soars, endowing generations to come with a wonderful classic. (Marinell Haegelin)