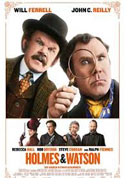 Holmes und Watson (Holmes & Watson)
U.S.A. 2018
Opening 7 Feb 2019
Directed by: Etan Cohen
Writing credits: Etan Cohen, Arthur Conan Doyle
Principal actors: Will Ferrell, John C. Reilly, Ralph Fiennes, Kelly Macdonald, Rebecca Hall
In 1881, Sherlock Holmes (Will Ferrell) meets John Watson (John C. Reilly), as Watson attempts to take his life by jumping from the roof of a building, to land in Sherlock Holmes's pristine garden. The two gentlemen come to an agreement and later become inseparable, solving crimes throughout London Town.
Years later, the famous duo are expected to view the trial of Professor James Moriarty (Ralph Fiennes) but they are both sidetracked by the devious obstacles sent it their path by Moriarty himself. Later at the trial, Sherlock Holmes pardons the accused, Moriarty, despite the pleadings of Inspector Lestrade. The absurd altercations leave Moriarty a free man, due to the lack of evidence and rather bizarre excuses made on his behalf.
A surprise party held in Sherlock Holmes' honor at Buckingham Palace is the setting for a murder scene. A corpse is hidden within his birthday cake with a message from Moriarty, threatening to assassinate Queen Victoria in two days' time. The chase begins.
Based on the original Sherlock Holmes stories by Sir Arthur Conan Doyle. (Charis Habertag)