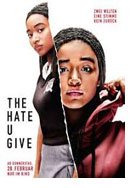 Opening 28 Feb 2019
Directed by: George Tillman Jr
Writing credits: Audrey Wells, Angie Thomas
Principal actors: Amandla Stenberg, Russell Hornsby, Regina Hall, Algee Hall, Common
Starr Carter (Amandla Stenberg) is not a typical sixteen-year-old struggling to define her identity. She has to navigate two worlds, the middle-class, white world where her mother (Regina Hall) insists that she and her siblings attend school and the poor, black neighborhood where her father (Russell Hornsby) wants them to live. She has to find her place in both worlds and figure out who she is in the process. Her worlds collide one evening when her childhood friend Khalil (Algee Hall) is shot and killed by a police officer and she is the only witness to the event.
As the media wants to focus on Khalil's troubled past to paint him as less than innocent, Starr has to deal with the opinions of her white friends who are sympathetic to the police officer. At the same time she is being confronted by the black community to take a public stand to voice their outrage at another shooting of an unarmed black man by the police. Starr's efforts to tread the line between standing up for what is right and who you are and the importance of not alienating people have become much more difficult. It's much easier to take a stand and demand your rights, when you don't feel like you have to protect your life to do it.
Starr isn't the only one navigating two worlds. Every person of color, or anyone who belongs to a marginalized group of society, is always having to choose between who they are and how to fit in. The opening scene of the movie shows a young Starr and her brothers being schooled by her father on how to act if they are ever stopped or confronted. Put your hands on the dashboard, show your hands, show you are not a threat. For those who can't fathom having such a conversation, we can never know what it's like to live in fear that an innocent act can have fatal consequences. We can't know what it's like to know people form potentially harmful conclusions about us because of what we look like. It's not always possible to walk in another man's shoes. The best we can hope for is to learn and listen and try to understand. With this explosive topic, the movie could understandably play to the anger and frustration of the black community. While it did depict this, it also presented another view in Starr's conversation with her police officer uncle (Common) and it also explored the desperate conditions of the underprivileged and the choices they must make to survive. More than anything, the emotion of sadness was prevalent. Sadness that things are this way and sadness for those who must experience it. THUG LIFE. (Anne Crocker)


Second Opinion

The heart of this film is what humans can, and do, give one another. Audrey Wells' screenplay follows Angie Thomas' same-titled 2017 young adult novel that George Tillman Jr. directs.
Set in Garden Heights, it could be any American inner city black neighborhood. With its too familiar local drug lord (Anthony Mackie) and gang trouble, the Carters are determined Seven (Lamar Johnson), Starr (Stenberg) and Sekani's (TJ Wright) lives will be better by sending them to a safer white school. Lisa (Hall) and Maverick's (Hornsby) biggest disagreement is whether to remain or leave the community. Sixteen-year old Starr straddles the school/home color divide, e.g. a best girlfriend (Dominique Fishback, Sabrina Carpenter) in both camps, white boyfriend (K.J. Apa), and early days pals. Then, the unimaginable happens, greatly effecting Starr. She witnesses unarmed childhood friend Khalil's (Algee Smith) killing by police. Subsequently, as events unfold, Starr is starkly reminded of the tightrope she walks. A Justice for Justice attorney (Rae) rallies the neighborhood; Starr goes before a Grand Jury. Only in its aftermath does Starr's light truly shine.
The young adult genre oftentimes powerfully addresses challenging, controversial issues that are relevant for all ages: date-rape, one's sexuality, suicide, etcetera. Thomas' narrative was guided by personal experiences that one feels innately watching THUG (acronym inspired by rapper/actor Tupac Shakur). The cast is truly amazing; Stenberg's star noticeably shines brightest. Flabbergasting and disappointing is Tillman's contentment to just follow the storyline, without inserting substantive pauses or emphasizing contentious subject matter, e.g. the scene of a shooting at a party. Editors Alex Blatt and Craig Hayes' unnecessary add-ons are annoying, e.g. soppy music during traumatic/dramatic scenes, and its length. Mihai Malaimare Jr.'s camerawork is worthy.
Insight helps to obliterate misconceptions, stereotypes, and educate. For example, a scene where Starr and policeman-cum-uncle Carlos debate arrest methods, plus demonstrating how patterns can be broken. The Hate U Give invokes tears, laughs, and is thought provoking: "Why be ashamed of what you can't change?" (Marinell Haegelin)