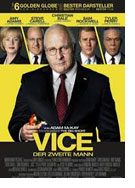 Vice - Der Zweite Mann (Vice)
U.S.A. 2018
Opening 21 Feb 2019
Directed by: Adam McKay
Writing credits: Adam McKay
Principal actors: Christian Bale, Amy Adams, Steve Carell, Sam Rockwell, Jesse Plemons
Oscar® winner Adam McKay's (The Big Short, 2015) screenplay is a thoughtful, probing look at the American Dream, structured around an ordinary man who ascended to vice presidency under President George W. Bush (2001 – 2009). Vice follows that journey: from the 1963 hard drinking, brawling lineman in Wyoming, to White House intern in 1969, to second highest office in USA. McKay's biopic focuses on the complexities of career moves effect on the family.
Newlywed Richard "Dick" Cheney (Bale's performance is virtuoso) loves Lynn dearly; she (a chameleon performance by Adams) goads, cajoles, encourages, and supports her man. Becoming a White House intern, under Donald Rumsfeld's (Carell) tutelage Dick's star ascends in Washington, D.C.'s bureaucracy, and among Washington-insiders. Nonetheless, his family is sacred: daughters Liz (Lily Rabe) and Mary (Alison Pill) are loved, and nurtured. Truth told, in the early days Lynn endures most of child rearing as Dick becomes a quick study. Respites at home/in Wyoming allow family pursuits amongst nature, familial reunions, and quiet time for Dick's passion, fly-fishing.
Cheney's climb includes: White House Chief of Staff (1973-1977), U.S. Representative from Wyoming (1979-1989), U.S. Secretary of Defense (1989-1993), i.e., acquiring savvy political leverage before becoming George Bush's running mate in the 2000 Presidential election. Often referred to as Co-president Cheney, Lynn easily dons the Mrs. VP mantle. Vice includes VP Cheney's more infamous, quickly squelched events: shooting a 78-year-old Texas attorney in the face (without ever apologizing), draft-dodging the Vietnam War, the Plame affair, and others. Not included is Cheney using the "f---" word on the floor of Congress.
Dark humor and archival material add equilibrium; Kurt's (Plemons) voiceover guides us through the maze. Its seasoned, convincing cast are in top form re-imaging past Washington, D.C. powerhouses: Rockwell/G.W., Eddie Marsan/Paul Wolfowitz, Justin Kirk/Scooter Libby, Kyle S. More/Roger Ailes, LisaGay Hamilton/Condoleezza Rice, et al. Greig Fraser's cinematography, Nicholas Britell's music, and Hank Corwin's editing are sterling: wait for the scene where Cheney / G. W. negotiate being running mates and its fly-fishing visual analogy.
McKay's juxtaposing family man/politician jars: the devout husband and father that recognizes the Rules of Law, with the ruthless man who bends rules to create laws best serving his agenda. Possibly the most tragic consequence of that delicate balance is the minute, critical difference between making sacrifices on, or at, a loved one's behalf. There is much to like about Vice, particularly knowing we are seeing history. Have people learned anything? The court is still out. 130 minutes (Marinell Haegelin)