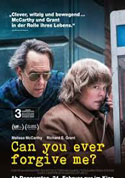 Can You Ever Forgive Me?
U.S.A. 2018
Opening 21 Feb 2019
Directed by: Marielle Heller
Writing credits: Nicole Holofcener, Jeff Whitty
Principal actors: Melissa McCarthy, Richard Grant, Dolly Wells, Jane Curtain
Lee (Melissa McCarthy), a best-selling author in the 1970s and 1980s, by chance meets Jack (Richard E. Grant) one afternoon in 1991. He buys her a round, or three, as they reminisce; both are on the backside of luck. Lee's last celebrity biography bombed, that triggered writer's block leading to menial jobs to pay bills. Whereas, Jack's nonchalant lifestyle extends to enterprising sources for acquiring income. Badgering her agent for an advance, Marjorie (Jane Curtin) instead dishes out hard, but honest advice Lee chooses to ignore. Lee's best friend is Jupiter (black/white cat), and worst enemy herself. During research for a new book, she inadvertently discovers a special moneymaking skill her now-buddy Jack helps with. One thing leads to another until, with the FBI hot on her trail and nowhere to go, Lee eventually does what people have been encouraging her to do for a long while.
Director Marielle Heller's second feature finesses Nicole Holofcener and Jeff Whitty's screenplay based on Lee Israel's same-titled 2008 autobiography, and memorable performances from McCarthy and Grant. In reality, her ambivalence, excessive drinking, and caustic wit—stunningly mimicked by comedian McCarthy, challenged anyone exposed to Lee. McCarthy's performance proves her dramatic mettle, and with Grant's compelling, flamboyant performance they manage to extricate audiences' forgiveness and likeability for the two oddball nonconformists. Production values are stellar throughout, with kudos to Nate Heller for timeless, harmonious music.
Lee Israel wore men's clothes and a flagrant miscreant attitude, while Jack Hock was an incorrigible flirt and loyal friend; they were thick as thieves gallivanting around New York City throughout their shenanigans. In addition, and writing in her natural voice, when Israel's memoir was published in 2008 they became infamous. Its scandalizing material was too salaciously debauched to disregard. Just as this film is too good to pass up. (Marinell Haegelin)


Second Opinion

Lee Israel (Melissa McCarthy), once a bestselling author, is down on her luck. Due in no small part to her difficult personality, she has just lost her job and can't get her agent, Margorie (Jane Curtin), to push her new project, a biography of Fannie Brice. Struggling to make ends meet she prefers to drink and be with her cat instead of applying her writing skills to a more marketable subject matter. While researching Fannie Brice she finds some letters written by Brice in an old library book and stumbles upon a scheme to make some money. She shares her plan with her new friend Jack Hock (Richard Grant), an even more down-and-out character than her but at least someone who possesses an element of charm and the ability to relate to people. She eventually ropes him into her scheme of selling forged letters written by famous authors to collectors when she needs a front man for her scheme.
Those familiar with McCarthy's comedic performances will be impressed with her dramatic talents. She skillfully depicts a miserable, frumpy and lonely woman who is seemingly unaware of her lack of sociability and doesn't care. We see a glimpse of her desire to open up with her relationship with bookseller Anna (Dolly Wells) but then she withdraws back into herself. Once her ruse is uncovered and she is forced to face the music, we finally see her exposing some of her true feelings. Strong performances, a bit of dark humor, and a great soundtrack all contribute to an enjoyable, albeit sad, film. (Anne Crocker)