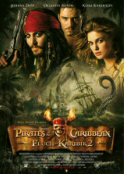 Fluch der Karibik 2 (Pirates of the Caribbean 2: Dead Man's Chest)
U.S.A. 2006
Opening 27 Jul 2006
Directed by: Gore Verbinski
Writing credits: Ted Elliott, Terry Rossio
Principal actors: Johnny Depp, Orlando Bloom, Keira Knightley, Jack Davenport, Bill Nighy
"Fifteen men on the dead man's chest,
...Yo-ho-ho, and a bottle of rum!
Drink and the devil had done for the rest,
…Yo-ho-ho, and a bottle of rum!"
written by Robert Louis Stevenson for his novel Treasure Island in 1883.
Captain Jack is back in full buccaneer form in the film Pirates of the Caribbean: Dead Man's Chest, directed by Gore Verbinski. The whimsical Captain Sparrow frivolously bargained for his soul in a pact with legendary Captain Davey Jones (Bill Nighy). The thirteen year pact comes to an end and Captain Jones, along with his ghostly barnacle shipmates, now surfaces from the world beneath-the-sea anxious to collect on the debt. The payment is a long awaited balm to soothe Jones' suffering broken heart and his shipmates' tormented spirits. The related proverb, "Scoundrels plot for evil and their speech is like scorching fire," supports the claim made on Captain Jack's life. Captain Jack is not comforted by the grueling message nor is he ready to pay up. To avoid his doom of everlasting torment and servitude in the afterlife he has tried to stay away from the sea which would surely take him captive prematurely. The mystic call of the pirate work song (above) assembles the remaining living pirates to help in his distress. His sailing vessel, the Black Pearl, has run aground and is found by Will Turner (Orlando Bloom) who also has a score to settle with Captain Jack for ruining his chance to marry Elisabeth Swann (Kiera Knightley). Jack is a good man and a dying breed among the pirate community. Therefore to preserve his pirate's life, he seeks the help of the gypsy queen, Tia Dalma (Naomie Harris) for special remedies that require choices of consequence.
In his attempt to make amends, the misadventures of Captain Jack Sparrow will amuse the simple, intrigue the curious and expose true love while the Pirates of the Caribbean search for yet another peculiar treasure. While the song of the pirate lingers on, "Yo ho, yo ho a pirate's life for me, we're rascals, scoundrels, villans, and knaves, drink up, me 'earties, yo ho. we're devils and black sheep, really bad eggs, drink up, me 'earties, yo ho", Captain Jack Sparrow remains a legend of hilarious goodness. (Karen Pecota)