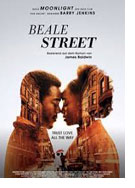 Beale Street (If Beale Street Could Talk  )
U.S.A. 2018
Opening 7 Mar 2019
Directed by: Barry Jenkins
Writing credits: Barry Jenkins, James Baldwin
Principal actors: KiKi Layne, Stephan James, Regina King, Colman Domingo, Teyonah Parris
19-year-old Tish Rivers' (Layne) tale is personal, includes 22-year-old Alfonso 'Fonny' Hunt and occurs in Harlem, New York. Her softly modulated voice and vividly expressive words quote often from James Baldwin's 1974 novel, If Beale Street Could Talk.
Tish and Fonny (James) are beginning plans for the rest of their lives when a Puerto Rican (Emily Rios) alleges Fonny raped her. Soon after, Tish realizes she is carrying her fiancé's child. Sharon (King) takes her daughter's news in stride, paving Tish's way for telling father and sister. Initially, Joe (Domingo) and Ernestine (Parris) are dumbfounded; subsequently, they phone the Hunts and invite them over. While Frank (Michael Beach) and Joe exude excitement, Mrs. Hunt (Aunjanue Ellis) and daughters (Ebony Obsidian, Dominique Thorne) are downright spiteful; their Fonny is too good for Tish. To some extent, everyone is skeptical of Ernestine's white lawyer (Finn Wittrock) friend, yet Hayward willingly fights for Fonny's rights. With her family's unwavering support, Tish perseveres. It is through conversations between various individuals and flashbacks that the source of Fonny's alarming plight is disclosed: a malicious police officer (Ed Skrein). Nevertheless, Tish is determined Fonny will be home for their child's birth.
With the Baldwin estate's blessings, Barry Jenkins' same-titled deftly-adapted screenplay contains passages from the novel. His direction is attentive, thoughtful and combines beautifully with cinematographer James Laxton's lush, intimate imagery, Nicholas Britell's expressive music, and Joi McMillon and Nat Sanders' languid editing, albeit some flashbacks called for more spirited pacing. Filming in New York City, and archival photographs inserted throughout add a plaintive sheen. The cast is awesome: King's portrayal of a desperate mother in a precarious position is pivotal to maintaining the story's equilibrium; Skrein makes a wallop of an impact during short onscreen time; the scene between the Rivers and Hunts highlights dysfunctional (universally nondiscriminatory) family's follies, and is deliciously ghastly.
As end credits roll, the patriotic "My Country, Tis of Thee" (Barry Manilow version) is sung – "Sweet land of liberty… Let freedom ring … for the children of every generation … People everywhere let freedom ring." A telling commentary on public misconceptions, considering how stagnant racial landscapes have remained since 1832. Beginning his poetic exposé to love, Baldwin wrote, "Beale Street is a loud street … It is left to the reader (viewer) to hear the drums." This enriching film is worth hearing. (Marinell Haegelin)