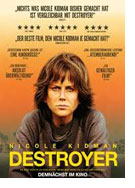 Opening 14 Mar 2019
Directed by: Karyn Kusama
Writing credits: Phil Hay, Matt Manfredi
Principal actors: Nicole Kidman, Sebastian Stan, Tatiana Maslany, Toby Huss, Beau Knapp
When Erin (Kidman), a tough aggressive police detective, shows up at a crime scene not in her jurisdiction she is snubbed. She looks ragged, done-in. At the office, mail awaits with a compelling clue. Ignoring her partner (Shamier Anderson) Erin follows a personal agenda. Flashbacks illustrate Erin working undercover with Chris (Stan) for FBI (Federal Bureau of Investigation) to expose a bank robbing gang of lowlifes' led by semi-deranged Silas (Toby Kebbell). Assuming then embracing new identities, before a big heist the pair work through an alternative scenario. There is a snafu. Now Erin is determined to right a wrong.
Present: Beginning with Toby (James Jordan) to Arturo (Zach Villa) to DiFranco (Bradley Whitford), Erin uncovers Silas' gal, Petra (Maslany), and intensifies her hunt. Erin's only diversion is Shelby (Jade Pettyjohn); sixteen and unmanageable, shirking school, older boyfriend, and carousing; ex-husband Ethan's (Scoot McNairy) supervision is substandard. Erin wants more for her daughter.
Nicole Kidman shifts effortlessly from hard-bitten grittiness to the young yet proven law enforcement officer; Erin's tough background prepared her for life's challenges. Managing to instill some understanding, sympathy for her character, Kidman carries Destroyer, with the worthy cast. Production values are solid. Director Karyn Kusama and writer-team Phil Hay and Matt Manfredi's clever screenplay solidly establishes precarious situations' highs and lows; what is desperately missing is mid-range values. Brilliant set-ups dissipate due to lack of emotional substance – why should audiences care about this inflexible, pushy woman whose actions generate so much hurt.
In the end, shame combined with love precludes everything: "You can be better than me." Knowing there is nothing more to lose, Erin meets retribution head-on. (Marinell Haegelin)