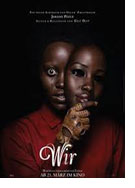 Opening 21 Mar 2019
Directed by: Jordan Peele
Writing credits: Jordan Peele
Principal actors: Lupita Nyong'o, Elisabeth Moss, Anna Diop, Winston Duke, Kara Hayward
Apparently, everyone was on tenterhooks waiting for writer-director Jordan Peele's (Get Out, 2017) hot new horror flick. Well, get ready for some chuckles, and some hold-your-breath moments in a world turned topsy-turvy during one long, long, long night. Brooding music and discordant chords (Michael Abels) forewarn, and lead us through the meandering, convoluted narrative. Sure, tension builds, but then peters, leaving us, like surfers, paddling in circles waiting for the next wave. If only Nicholas Monsour's editing had capped extraneous material and concentrated on an underlying momentum to buildup suspense innately to its zenith.
Adelaide Wilson (Nyong'o), and family spend summer vacations at Santa Cruz even after her harrowing childhood experience at the beach town's amusement park. Dad (Duke) acts like a dufus, Jason (Evan Alex) has trouble focusing, Zora's (Shahadi Wright Joseph) only focus relates to driving, and Adelaide is unfocused. Why is it always that after, things are clearer? After: an afternoon at the beach with Josh (Tim Heidecker), Kitty (Moss) and girls. After: tucking the kids in bed. Just after: Adelaide tells Gabe about the frightful Fun House, and how it still manifests disturbing repercussions. After: lights go out. Four figures are standing motionless in their driveway. Suddenly, doppelgängers confront them. Red's (Nyong'o) "once upon time" story is unambiguous. Mom and the kids get it; dad's bluster quickly deflates. This nightmare is real. Its menace, deeper and more insidious than fathomable, oozes beyond the four walls.
Lupita Nyong'o and Elisabeth Moss artfully convey their character's duality, well supported by the cast. Mike Gioulakis' cinematography, and Ruth De Jong's production design are worthy. Stuck along the timeline are copious clues, e.g. Adelaide's volte-face, Jason's mask, a talking Red. Lining them up side-by-side, eventually they make sense of Wir's visual hyperbole. By showing less, the film could have been so much more. (Marinell Haegelin)


Second Opinion

When Adelaide (Lupita Nyong'o) was a child, she had a terrifying experience at the beach in Santa Cruz. Years later, she returns with her family for a relaxing holiday, but events take an ugly turn as they are attacked in their home one evening. What is even more disturbing is that the intruders look just like them, and they seem to want only one thing: revenge.
Writer/director Jordan Peele's first feature Get Out (2017) was a smart and superbly crafted horror film which won an Academy Award for Best Original Screenplay. That is a hard act to follow, but Peele's skills as a director and writer have shown through again in this sophomore feature.
Just like Get Out, there is a lot to unpack in Us, and audiences will likely find benefit in repeat viewings. On the surface, it is a masterful horror/comedy of a family trying to survive a home invasion. However, lurking just below that horror trope is a deep cultural criticism of class in America. This is a film that cultural critics will be dissecting for years to come, and it certainly evokes some of the more inventive Twilight Zone (1959) episodes of yore.
In addition to the well-crafted story, the other aspects of the film are also compelling. Lupita Nyong'o gives a powerful performance as the tortured Adelaide, doing everything in her power to help her family. The supporting cast is a joy to watch and the writing, pacing, and resolution are all highly satisfying. Peele has a skill for making films which invest audiences in the story to such a degree that there is a veritable need to call out and cheer for the characters. Due to this, Us will undoubtedly be a crowd pleaser. An intelligent film with a plot that will leave audiences thinking about it long after the credits roll, this is one not to miss. (Rose Finlay)