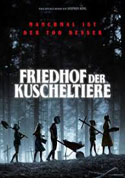 Friedhof Der Kuscheltiere (Pet Sematary)
U.S.A. 2019
Opening 4 Apr 2019
Directed by: Kevin Kölsch, Dennis Widmyer
Writing credits: Stephen King, Matt Greenberg, Jeff Buhler
Principal actors: Jason Clarke, Amy Seimetz, John Lithgow, Jeté Laurence, Hugo Lavoie
This second incarnation (1989 film) of Stephen King's 1983 horror novel, Pet Sematary, is a rather bizarre interpretation co-directed by Kevin Kölsch and Dennis Widmyer. The lead-in brooding music, foreboding sounds design, and grayed and misty bird's eye view of our destination breaks to a jaunty composition as sunny as the happy family we meet. That introduction also portends to two directors with (perhaps) two directions that result in an over-the-top flick with lots of blood and few surprises.
A doctor and family relocate from Boston to rustic Ludlow for more family together time. Louis (Clarke) is at the hospital; Rachel (Seimetz) and Ellie (Laurence) unpack boxes while Gage (Lavoie) naps when they hear distant drumbeats. Following the sound, they gape at a masked procession slowly passing. Later their closest neighbor, longtime resident Jud Crandall (Lithgow), informs the Creeds about the forest's peculiar 'Pet Sematary'. Then Ellie's cat, Church's, body is found, so by the stealth of night Jud and Lewis trek to that selfsame cemetery. Fate intervenes when Jud guides Lewis to an unnaturally sinister burying spot, and well, it follows that the horror really accelerates.
The acting is good: by degrees the men shift to menacing, the tyke is winning and schoolgirl chameleon-like, and mom is emotional yet practical. Jeff Buhler's screenplay is obvious — we know what will happen before it does; editor Sarah Broshar accommodates the directors' too many forced setups. Christopher Young's music, and Laurie Rose's cinematography is worthy.
Stephen King's hallmark is characters with insidious qualities. Nature as the protagonist can be truly frightening, yet when protagonists are human the degree of nastiness is perniciously repugnant. When filmmakers understand and use that aspect, you get a film like The Shinning (1980); otherwise, it is best not to resurrect cats, or a pet sematary. (Marinell Haegelin)