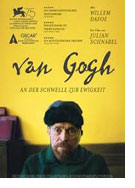 Opening 18 Apr 2019
Directed by: Julian Schnabel
Writing credits: Jean-Claude Carrière, Julian Schnabel, Louise Kugelberg
Principal actors: Willem Dafoe, Rupert Friend, Oscar Isaac, Mads Mikkelsen, Mathieu Amalric
There has never been a painter like the Dutch artist Vincent Willem van Gogh (March 30, 1853- July 29, 1890) who came from a simple middle-class pastor's family to creating over 2000 art works which have a profound influence in the world today which is both timeless and universal. In At Eternity's Gate, American director Julian Schnabel with the help of an award-winning French camera man Benoît Delhomme have created an odyssey of the trials and tribulations of Vincent Van Gogh's struggle with mental illness and yet he was driven to do the one gift that he had which was to paint. The film moves with incredible energy as the leaves in the trees move, as the grass moves and as light jumps from one object to the next. We, the viewers, can feel why the subject matter is so captivating to him and why living in this small town of Arles was not always a safe place for him. Delhomme use of special lens in this film makes us see how Vincent might have seen the landscape as well as chance to feel the craziness that he must have felt. With the use of black-out cut spaces we see this artist's internal struggle not only with his community but within himself.
The most outstanding decision made in this film was the choosing of Willem Dafoe. Defoe looks the part with or without make up. It is incredible. More importantly he manages to dive deep into the soul of Vincent to pull out an outstanding performance, one enough to be nominated for Best Actor at the Golden globes, as well as the 2019 Oscars.
The film covers the time period that he makes the decision to move to Arles to paint because of the light. We see his strong connection that he has with his beloved brother Theo who kept him finically afloat and to his companion Gauguin who tried to give him advice but had a completely different theory on how to paint. The film has theories and surprises on how Vincent led his life, a life that didn't have many choices since he was driven to do what he did: Paint! (Shelly Schoeneshoefer)


Second Opinion

"I paint so I don't have to think", Vincent Van Gogh (Willem Dafoe) is a genius, yet troubled mind; both are source of his inspiration to create some of the most famous paintings the world knows today. However, in his lifetime Van Gogh was longing for this recognition, only selling one painting until his death and always dependent on the financial support of his brother Theo (Rupert Friend).
The story of "At Eternity's Gate" is known - we won't find any grand revelations in this film, and to reveal that Van Gogh will cut off his ear and hand it to the girl in the tavern across the street is not in the least a spoiler. But this is not what this is about. Schnabel's depiction of the last years of Van Gogh, which the painter mainly spent in south France's Arles, is a beautifully orchestrated, almost meditative experience of sound and picture, mirroring, what we can only imagine may have been going on in Van Gogh's mind. When we watch Vincent take off his dirty boots and starting to paint them in a fit of inspiration, the experience can only be described as sensual with the wind rustling through the trees, with no other sound but the paintbrush grazing the canvas in thick ductus.
The primarily used point-of-view shots pull the audience into the colorful world of Vincent and the to-eternity reaching landscape of Arles, where Van Gogh is pursuing his calling to paint, despite people misunderstanding his art as "ugly" and disturbing.
The calmness of frames with minutes of no sound but the wind rustling is time passing in serenity. Watching this film, I was there - right next to Vincent. I felt like I was accompanying him like a little devil on his shoulder, challenging him to a brighter, more powerful yellow for the fields. "not that one Vincent, more orange!" I would almost find myself whisper.
Willem Dafoe did a brilliant job in his portrayal of Vincent, the wonderous mind, the worried look, you suddenly even see that every single wrinkle in his face resembles the self-portrays of Van Gogh, you can forgive that Dafoe is almost 25 years older than Vincent was when he died. A lovely film for anyone interested in art or just a lover of beautiful landscapes. (Karen Eve Malinowski O'Shaughnessy)