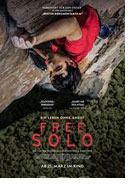 Opening 21 Mar 2019
Directed by: Jimmy Chin, Elizabeth Chai Vasarhelyi
Writing credits:

The Oscar award-winning documentary filmmakers Elizabeth Chai Vasarhelyi and Jimmy Chin collaborate to direct and produce their latest documentary FREE SOLO.
FREE SOLO celebrates the extreme athletic abilities of professional adventure Rock Climber, Alex Honnold. He is the most recognized and followed climber to date because of his free solo ascents of America's most challenging Rock Climbs.
National Geographic Documentary Films sponsors Varsarhelyi and Chin to capture Honnold's free solo attempt to climb the 3,200 feet El Capitan in Yosemite National Park without a rope. Together with several well-known photographers this amazing crew brings to light Honnold's story to live beyond fear.
Honnold's journey would not be the same without a unique family of extreme sport photographers doing what they do best—to capture remarkable feats of human skill, as witnessed in FREE SOLO. Danger lurks all around the jobs of those with a camera just as much as it does for the human extreme sport enthusiast. They understand loss. Several photographers have lost their closest friends to the passions of life-threatening sports. The dread of these professionals is to be witness to yet another friend's demise. The hazards of filming Free Solo were no different. Often camera's set in place for the perfect shot, it's a reality that photographers cannot bear to look into their lens for fear that their own eyes will capture a death-defying end of a revered friend.
FREE SOLO shares why Hannold chooses to be closely connected to nature's most breath-taking creations and explains the significance of his life's motto--LIVE BEYOND FEAR. His need to deal with his own fears makes sense and his reasoning gives the film audience food for thought.
Hannold reflects, "I've spent so much time being afraid. I have a lot of experience with fear, probably more than the average person." He adds, "I think this allows me to help differentiate when I'm truly in danger and when I should act on it."
Jimmy Chin, an 18-year member of the North Face Athlete Team and National Geographic Explorer and world renowned photographer and mountaineer explains, "Free-Soloing takes extraordinary commitment. Succeeding in this challenge places Honnold's story in the annuals of human achievement."
Elizabeth Chai Vasarhelyi says, "What drew me to the story was the very, very simple fact that when Hannold was a young boy, it was easier for him to go climbing by himself without a rope than it was for him to talk to somebody else and ask them to go climbing with him." She adds, "I could empathize with him and I felt like a lot of people would feel and empathize."
FREE SOLO is a heart throbbing thriller, an inspirational visual of athletic challenges with one's body and beliefs that will threaten his focus due to unexpected injuries, setbacks and a surprise discovery of falling in love.
FREE SOLO is described by The New York Times as "a miraculous opportunity for the rest of us to experience the human sublime." (Karen Pecota)