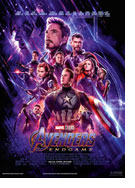 Opening 25 Apr 2019
Directed by: Anthony Russo, Joe Russo
Writing credits: Christopher Markus, Stephen McFeely, Stan Lee, Jack Kirby, Jim Starlin
Principal actors: Robert Downey Jr., Chris Evans, Mark Ruffalo, Chris Hemsworth, Scarlett Johansson
Is it possible to move on after a cataclysmic event wreaks destruction and havoc on the lives of all creatures in the universe? For the Avengers, their failure to stop Thanos makes the tragedy all the more painful and has left lasting trauma. However, when unexpected allies appear, they must assemble once again to try and set the universe back to rights.
It is certainly a difficult task to follow up a film as downright enjoyable and surprising as Avengers: Infinity War (2018). The hype is high and with that also comes elevated expectations. For the most part, Endgame manages to hit all of the right beats and brings all of the various threads together into a cohesive, if not entirely satisfying conclusion. The mix of comedy and drama is exactly what audiences have come to expect, and the fan service is, for the most part, deserved. However, where the Endgame struggles is in both character development and plotting.
Perhaps it should be expected that in a film with as huge an ensemble cast as this one that the development of the characters would suffer. While it is certainly not the case of the entirety of the Avengers, many are not sufficiently looked after. The lack of development of several key characters makes their sacrifices less powerful and at times, their actions seem out-of-place. Considering the three hour runtime, it is surprising that there apparently wasn't time for the entire main cast to be given adequate set-ups and payoffs.
In addition, the plotting of the film is both structurally and logically weak and doesn't withstand much critical thought. The story's simplistic structure renders the film at times predictable and a bit boring. Certain deus ex machina characters appear and disappear for silly reasons and other characters withhold information for no apparent reason leading to needless drama that could have been avoided. Add to that a ridiculously overpowered super villain (with no explanation given for why he's that way) and the significant and sometimes frustrating issues end up leaving a bit of a sour taste.
Still, Avengers: Endgame is enjoyable, funny, and will inevitably make you cry. It concludes the first phase of Marvel's Cinematic Universe adequately and it must be said that no punches are pulled. It is just unfortunate that it didn't manage to quite succeed at being as strong of an offering as many might wish. (Rose Finlay)


Second Opinion

Everyone remembers the end game started with the Infinity War in 2018, right? When half our friends vanished before our eyes, thanks to Thanos' (Josh Brolin, motion capture) nefarious actions. The new world is a dismally gray and lifeless universe, as witnessed five years later. Then, our miniscule friend pops up; he finds Natasha Romanoff (Black Widow / Scarlett Johansson), who is keeping track of anything that might develop, and Steve Rogers (Captain America / Chris Evans). Scott's (Ant-Man / Paul Rudd) idea seems to put the zing in them. Great brains (Mark Ruffalo, Robert Downey Jr.), luck, and hope will be needed, because so much will hang by a thread.
The less you know when you enter this particular Avengers' adventure the better, so you can enjoy it fully.
Having been at the helm expanding storylines in The Avengers, 2012, Avengers: Age of Ultron, 2015 and Infinity War, 2018, directors Anthony and Joe Russo brilliantly bring Marvel Cinematic Universe's (MCU) myriad of comic-book characters together for one last go at powerful super-nemesis Thanos. The real heroes, though, are the writers, editors, and producers (decision makers). Christopher Markus and Stephen McFeely's screenplays for the 2018 and 2019 films are based on a Marvel Comics 1991 series, The Infinity Gauntlet by Jim Starlin from concepts he developed in the 1970s. The two teams—directing/writing—navigated storylines sharing elements with the mandate both film's distinctiveness be preserved. And, most impressively, they brought the other twenty-one MCU film's characters into the epic Infinity saga; having eased into Endgame, the action builds to a gargantuan climax that commands attention.
Off screen professionals assured Infinity and Endgame's continuity: Editors Jeffrey Ford and Matthew Schmidt shrewdly move among planets while controlling the timeframe, and seamlessly integrating remarkable computer graphics from teams that span continents. Veteran action cinematographer Trent Opaloch shot back-to-back rather than concurrently as initially planned, just as Alan Silvestri's characteristically distinctive music glides through the universe. Kudos to that coordinated effort and teamwork contributing to the MCU magic.
It is gratifying to see how the sterling ensemble took on a character, owned it, and have matured with it. Their sorties have taken us on now 22 journeys, through various realms and realities. Not to left out of the fun, various actors reprise their roles: Tilda Swinton, Benedict Wong, Winston Duke, Benedict Cumberbatch, Robert Redford, Chadwick Boseman, Letitia Wright, Sebastian Stan and more. Co-creator Stan Lee even makes his "watched for" last cameo.
So, hop aboard the spacecraft for this final ride through this particular Marvel Cinematic Universe. Dynamically emotional, with energetic dialogue sprinkled with sarcasm, humor, Endgame's guarantee is an exhilarating, entertaining, and fun trip. (Marinell Haegelin)