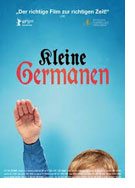 Opening 9 May 2019
Directed by: Mohammad Farokhmanesh, Frank Geiger
Writing credits: Mohammad Farokhmanesh, Frank Geiger, Armin Hofmann

As it begins, Kleinen Germanen (Little Germans) has the quality of a fairy tale: close-ups of children's sweet, innocent faces and tinkly music, and then extraordinarily realistic, beautifully executed animation as Voiceover introduce little Elsa's story. What unfolds though, in tone is more typical of non-sanitized Brothers Grimm folklore.
It is 1979, and both parents work so Opa (grandpa) looks after Elsa: he invents childhood games, bans certain cartoons, and tells stories about "rats." Opa's favorite dictums include, "stay proud," and "fight for our beautiful country;" later she learns the art of deception from him. Eventually, Elsa meets and marries Torsten; they have children, seek a new home and are absorbed into an enclave. Other Voices' narratives are incorporated to provide a broader picture, while moving Elsa's story forward to its conclusion. Examining Elsa's life, from childhood to adulthood, an obvious take-away emerges when the grown-up "little German" seeks peace. But, not without paying a high price.
Directors Mohammad Farokhmanesh and Frank Geiger's film is absorbing, and compelling. Kleinen Germanen describes how adults' fanaticism spread far-right ideology through procreation. Large families are encouraged, and offspring's upbringing is vital to increasing hate and discrimination, gender bias, and community discord. Interviews with individuals involved in different aspects of NPD, the Neo Nazi, and other radical nationalistic movements add context. Additionally, someone talks about having left an extremist group, how hard it was to adjust, and yet, having individual freedom is worth it.
Themes cover all aspects of indoctrination, and how these communities encourage conformity. Editors Andrew Bird, Habiba Laout, and Frank Geiger intersperse archival footage throughout; Marcus Winterbauer's camerawork is good. Radicalization exists under many guises; in The Harvesters (Filmfest Hamburg, 2018), it was an Afrikaner enclave's religious bigotry; control in endemic in any propaganda process. This may not be new, but to see it happening in plain sight, and to children who have no choice, is chilling. (Marinell Haegelin)