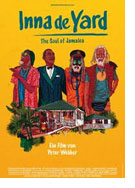 Inna de Yard – The Soul of Jamaica
France 2019
Opening 20 Jun 2019
Directed by: Peter Webber
Writing credits: Peter Webber
Principal actors: Kiddus I., Ken Boothe, Cedric Myton, Winston McAnuff, Steve Newland
It is impossible to leave this documentary without smiling, and wanting to have been at Le Trianon in Paris on October 27, 2017. Onstage performing were Jamaica's Inna de Yard collective's reggae veterans, as the standing-room-only audience waved their arms aloft, and collectively soared in time with the beat.
British writer-director Peter Webber's (The Girl With the Pearl Earring, 2003) great opening sequence marries legendary musicians and music, with lively visuals to whet audiences' appetite. In the Garden, Inna de Yard is doing what they do – old and young musicians gather for reggae jam sessions – but never recorded before. "It's [reggae] the language of our people." "Some countries have diamonds, some have pearls, … [W]e have reggae."
Focusing on anecdotes and accounts of some old-timers, and newbies, Webber's well-structured documentary framework takes audiences through the history, and heart and soul of reggae. Instrumental to the film is the informative and encompassing, inclusive camerawork (Jodie Arnoux, Bernard Benant). For Kiddus I., the Rebel, it is about luck; Cedric Myton, leader of The Congos, explains how despite having a hit, the group received no royalties. "Electric Dread" Winston McAnuff talks about bereavement, as does Derajah, while Var, a descendant of Maroons, explains about Jamaican slave's rebellion. A pastor's daughter, Jah9 converted to Rastafarianism at university; her activism and outspokenness spill into her music. "The Godfather" Ken Booth has learned from mistakes, withstood the test of time, and knows his priorities. Judy Mowatt's luck came in the persona of Sonia Pottinger, a Jamaican record producer. Winston 'Bo Pee' Bowen, Lloyd Parks, Rashaun "Kush" McAnuff, and Steve Newland appear as well.
Reggae is an accumulative music genre from non-island sources the local artists inhaled, sped up and gave birth to in the late 1960s in Jamaica. Noteworthy reggae pioneers include Ken Boothe, Bob Marley, Prince Buster, and Desmond Dekker; lately, the musicians have been going back to their roots. Heartening is how established musicians work with young artists, whereby the "youngsters" increase "live" skills, while the "oldsters" pick up new trends. With these common goals, global audiences enjoy the fruits from this win-win relationship. (Marinell Haegelin)