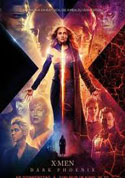 X-Men: Dark Phoenix (Dark Phoenix)
U.S.A. 2019
Opening 6 Jun 2019
Directed by: Simon Kinberg
Writing credits: John Byrne, Chris Claremont, Dave Cockrum, Simon Kinberg, Jack Kirby
Principal actors: James McAvoy, Michael Fassbender, Jennifer Lawrence, Nicholas Hoult, Sophie Turner
Very much a stand-alone film, writer-director Simon Kinberg unequivocally has the controls in Marvel Comics X-Men: Dark Phoenix. Although a direct sequel to the 2016 X-Men: Apocalypse, ten years have passed in comic's world; currently, this specially gifted group is darlings of the nation and world.
Kinberg's strong, carefully planned screenplay begins with an incident when Jean Grey (Summer Fontana) is 8-years old, jumps to present-day and the woman Jean has become under Charles Xavier's (McAvoy) tutelage. Xavier's (private) School for Gifted Youngsters has established a bridge of acceptance between ordinary folk and mutants. This includes a direct line to the President, who again calls for their help. Their mission's ensuing dangers, even with Peter/Quicksilver's (Evan Peters) interventions, penetrate Jean / Phoenix's (Turner) self-control, whereby she has intemperate outbursts. Scot / Cyclops (Tye Sheridan) is beside himself, and the team (Alexandra Shipp/Storm, Kodi Smit-McPhee / Nightcrawler, Gregg Lowe / Ink, rumored, Evan Jonigkeit / Toad, rumored, Kota Eberhardt / Selene, Andrew Stehlin / Red Lotus, Daniel Cudmore) is shaken. Raven's / Mystique (Lawrence), concern about higher-pitched risk-taking prompts conversations with her foster brother, and then Hank / Beast (Hoult). Therefore, when their colleague goes off the reservation—Jean even turns to Eric / Magneto (Michael Fassbender) on Genosha—loyalties divide, factions work against one another, and confusion reigns. Eventually the X-Men (and women) grasp that the extremely powerful, and cunning alien nemesis' (Jessica Chastain, Ato Essandoh) must be conquered, particularly since "protect[ing] my family" is paramount.
Following their successful launchings of amazing superheroes—Iron Man, Hulk, Spider Man, et al., in 1963 co-creator Stan Lee's imagination devised a new group of superheroes, albeit without background identities. During interviews in 2004 and 1987 respectively, Lee said he took "the cowardly way out" by introducing them as mutants, and "So I gave them a teacher, Professor X. Of course, it was the natural thing to do, instead of disorienting or alienating people who were different from us, I made the X-Men part of the human race, which they were." The invincible creative team of Stan Lee and artist/co-writer Jack Kirby had little trouble convincing Marvel Comics, whereby X-Men joined the Marvel Universe. Since X-Men film series reincarnation in 2000, this is its twelfth installment.
The consummate ensemble brilliantly portrays their double-sided characters. Mauro Fiore's active cinematography and Lee Smith's tight editing ensures audience attention never wavers. Most stunning are the extravagantly energized layers of worldwide visual / special effects companies work supervised by Phil Brennan; the film provided 15,000 jobs and hundreds of thousands of work hours. While humans run amuck despising and fearing mutants the good, peace-loving X-Men battle, above all in the universe, against evil's lust for power and destruction. "It's a new beginning," for audiences as well to sit back and enjoy. (Marinell Haegelin)