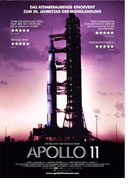 Opening 11 Jul 2019
Directed by: Todd Douglas Miller
Writing credits:

President John F. Kennedy awakened Americans' imagination to the infinite possibilities of human space travel in 1961, pledging to "be bold." Eight years later, that boldness is put to test that Todd Douglas Miller brings to life in Apollo 11, a must-see documentary. It is engrossing, spellbinding and an incredible thrill to experience 50 years to the month after the feat.
Established in 1958, NASA (National Aeronautics and Space Administration) is the parent organization of Kennedy Space Center in southeast Florida; that area is pancake flat, and with the right weather conditions it is possible to watch a spacecraft launching into the wild blue yonder from far away.
In July 1969, its critical inception is the launching of Apollo 11; the reality of this extraordinary feat was astoundingly recorded from every viewpoint, including cameras attached to the spacecraft, and Lunar-landing module. For instance: moving the spacecraft to Pad A for launching; inside Florida's Space Center with the many scientists glued to screens and/or data, and Mission Control, Houston (Texas) during those eight frantic, taut days; Americans sleeping on beaches, climbing on cars and rooftops to watch the launch; the astronauts boarding the transport van, entering the spacecraft, inside Apollo 11, and commander Neal Armstrong and pilot Buzz Aldrin taking care of business on the moon while Michael Collins pilots Columbia above, and its successful reconnection with Eagle. Then, USS Houston retrieving the pod.
American commentary by iconic newscaster Walter Cronkite steers audiences through the crisp, clear repurposed footage; seeing it in 2019, a time warp occurs. Miller's editing is outstanding, and the reconstruction was surely painstaking: its structure, Matt Morton's unobtrusive music, and sound design. Little known or remembered facts emerge, e.g., worldwide agencies participated in boosting the American Lunar off the moon's surface.
"No matter where you travel, it's always nice to get home." Just as, seldom can anyone say, "I've been to the moon," yet whoever sees Apollo 11 will have that distinction. The film is honest, provides hope, and reminds us, adventure waits! (Marinell Haegelin)


Second Opinion

"That's one small step for man, one giant leap for mankind." Those immortalized words by Neil Armstrong as he stepped foot on the moon marked the powerful achievement of humanity in reaching further into the stars than ever before. That is the basic understanding that most people have on that momentous moment of history and yet, it does not fully evoke the efforts of the hundreds of people who worked tirelessly on the project, nor the days of tension throughout the mission. Using carefully chosen archival footage, director Todd Douglas Miller takes the audience through the intense experience of the launch, flight, and return of the most famous space mission to date.
Apollo 11 is a highly educational film which will no doubt be popular amongst school teachers and history buffs. The images are crisp to a degree that it seems impossible that they were taken some fifty years ago. With this clarity of picture it is easier to remember that these were real people and that it is an extreme technical challenge to send people to the moon (so much so that the last moon landing was in 1972). This is a film meant to be enjoyed in the cinema, preferably on the biggest screen you can manage. The scope of the images still manages to evoke wonder and there are times when it is a real feast for the eyes. Everyone should go out and see Apollo 11 if only to be reminded of the amazing feat of science, technology, and human intrepidness it took land on the moon. (Rose Finlay)