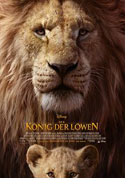 Der König der Löwen (The Lion King)
U.S.A. 2019
Opening 18 Jul 2019
Directed by: Jon Favreau
Writing credits: Jeff Nathanson, Brenda Chapman, Irene Mecchi, Jonathan Roberts, Linda Woolverton
Principal actors: Donald Glover, Beyoncé , Seth Rogen, Chiwetel Ejiofor, John Oliver
Nostalgia ripples through Jon Favreau's version of the beloved story of Simba, The Lion King. The Walt Disney Animation Studios musical drama's 1988 inception, influenced by Shakespeare's Hamlet, begat the original 1994 same-titled film. Favreau's personal modernization utilizes virtual cinematography technology re-imagining. Jeff Nathanson's screenplay is flavored with word play and wisecracks, with the story by Brenda Chapman—head of story on the original film. Other veterans returning are James Earl Jones as Mufasa, Hans Zimmer (original score), and Elton John (musical compositions) and Tim Rice (lyricist), with a new song together with Beyoncé.
King Mufasa (Earl Jones) impresses on Simba (JD McCrary) future moral obligations to expect when ruler of Pride Lands: respect for nature's connectivity, and what he can give its inhabitants. Concurrently, Scar's (Ejiofor) conniving eventually bears fruit when, following his father's murder Simba (Glover) chooses self-exile. Uncle assumes the thrown with a little help from Shenzi (Florence Kasumba) and her hyenas, just as Queen Sarabi (Alfre Woodard) deflects Scar's advances. An improbable, lifesaving friendship with Pumbaa and Timon (Rogen, and Billy Eichner respectively) launches Simba into a hakuna matata (Swahili for "no troubles") lifestyle, and next thing they know, "[Y]ou've grown 400 pounds (181 kilogram) since we started." When Nala (Beyoncé), Zazu (John Oliver) and Rafiki (John Kani) discover a thriving Simba, only Mufasa can guide him home.
Following the success of The Jungle Book (2016), Disney invested in software research, and development to further the "technologically groundbreaking" photorealistic computer-generated animation. Visual Effects studios/companies worldwide were involved in these developments. Caleb Deschanel filmed in South Africa, Los Angeles, California, and Africa, with editing by Adam Gerstel and Mark Livolsi – this is his last film-credited work († 2018). An iconic musical even with embellishments, The Lion King shaman reminds, "Everybody is somebody." (Marinell Haegelin)


Second Opinion

In 1998, when Gus Van Sant decided to make a shot-for-shot remake of Psycho (1960), the results were found to be disappointing. Little more than a gimmick, there was a general consensus that it was a film that hadn't needed to be made. Presumably that is the reason why in all of the recent Disney live-action remakes, there is new material included so that those who are familiar with the originals might consider them worth viewing. This is not the case with The Lion King (2019) which hearkens back to the mistakes of Psycho (1998), and continues to call into question the need for these recent Disney remakes.
The Lion King (1994) was a megahit, and managed to not only win two Academy Awards, but also became the highest grossing traditionally animated film of all time, spurring the creation of a hit Broadway musical and several sequels. These are big shoes to fill, and perhaps that is the reason why, when faced with the challenge of creating the remake, Favreau struggled to find ways to make the adaptation his own. This is resulted in a film that is about ninety-percent a shot-for-shot computer animated remake.
It isn't that the 2019 Lion King is entirely without merit though. I think it can be safely said that the computer-generated animation is astounding. There are many instances where the animals look so realistic that it is hard to believe that they were rendered on a computer and not taken from real life. That this is an amazing achievement should not be forgotten, however, it is unfortunate that it was not used in a better overall film.
Alright, so there is outstanding animation, but what else is there to make this film worth going to see? The unfortunate answer is, not much. It is so close to the original that the mind can't help but draw direct comparisons, and unless you've not previously seen the original, it is not an equal experience. In striving for a more "live-action" feel, the magic has been removed. If you are looking forward to goose-stepping hyenas, then be prepared to be disappointed. What additions have been included, tend to be small script changes that don't do much of anything for the plot. The addition of a new Beyoncé song, seems less of an artist choice and more like a calculated move to give the film a chance at a Best Original Song Academy Award.
So, when it comes down to it, The Lion King (2019) tried so hard to not step on the toes of the original's fanbase that it failed to ever become its own film. To some, it may be worth watching if only to take in the technical achievements, but for the average viewer, there is nothing here that makes it worth the price of cinema ticket. (Rose Finlay)