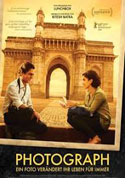 Photograph - Ein Foto verändert ihr Leben für immer (Photograph)
Germany/India/U.S.A. 2019
Opening 8 Aug 2019
Directed by: Ritesh Batra
Writing credits: Ritesh Batra
Principal actors: Nawazuddin Siddiqui, Sanya Malhotra, Sachin Khedekar, Denzil Smith, Brinda Trivedi
Director-writer Ritesh Batra's (The Lunchbox) laconic film, moving at a snail's pace, tracks the lives of two reticent, subdued young people. A photographer at Mumbai's waterfront monument, the Gateway, with its constant flow of visitors Rafi (Siddiqui) deposits much-needed earnings regularly. Busy studying for exams at the business school, gentle Miloni (Malhotra) acquiesces to parents in all matters. Subsequently, walking through the Gateway area the two meet. Conversely, prior to visiting, Dadi (Farrukh Jaffar) told everyone her grandson should be married; Miloni's well-off parents (Lubna Salim, Sachin Khedekar) are also sparring with her future. Once Rafi tracks her down, Miloni agrees to pose as his fiancé. Thinking this will assuage Dadi's urgency to marry him off, instead, when the three meet Rafi is surprised by unanticipated twists with serendipitous results.
Tim Gillis and Ben Kutchins' cinematography tiptoe through the film with the grace of a gazelle. Moving between the young peoples lives—their friends, lifestyles, personalities—reveals how alike in their differences Rafi and Miloni are that Nawazuddin Siddiqui and Sanya Malhotra artfully portray. Especially considering there is little to work with script-wise. Batra's screenplay subtleties reach a new level: confusion. The protagonists' conversations are minimal, yet their body-language is equally minuscule. Editor John F. Lyons's measured pacing nevertheless leaves questions, e.g., if the second billboard is important, why not give audiences a chance to see it. Also, cutting fifteen-plus minutes would have reduced monotony and the narrative's ponderosity. Because, during the Photograph's engaging sections, dry humor and wistful tenderness shine through. (Marinell Haegelin)


Second Opinion

Rafi (Nawazuddin Siddiqui) earns his living as street photographer at Mumbai's famous Gateway monument. Miloni (Sanya Malhotra) agrees to having her photograph taken. Before he can hand her the developed print, her family is calling and she rushes to join them. Rather perplexed Rafi keeps the picture and returns to his cramped quarters in the poorer part of Mumbai. Arriving home, where everyone knows everyone's affairs, he is told that his grandmother, living in the far-away village, is not taking her medicine until he is seriously looking for a wife. Deeply troubled by this, he decides to send her the photograph of Miloni, presenting her as his girl. This good news inspires granny (Farrukh Jaffar) to get on the two-day train ride to meet the girl. Now, Rafi is in real trouble. What to do? He has to find Miloni and persuade her to pose as his date.
Miloni, an introverted young woman, lives comfortably with her middle-class family. Everything is regulated according to custom and the caste system (still very much alive in India). Her parents pushed her to study accountancy, instead of becoming an actress, and they will also choose a husband for her. Rafi's plan is a daring adventure for her. It opens a new world and introduces the shy but inquisitive girl to an unknown side of Mumbai. She accepts to play the role for Rafi's grandmother. Suddenly, she sees the life around her with new eyes and is drawn to the amicable young man who is caring and considerate, understanding her dreams and secret wishes.
Ritesh Batra's (writer-director) strength lies in gentle nuances as also seen in his successful debut film Lunch Box (2013). Photograph is produced in soft sepia colors giving it an old-fashioned touch. In addition, the pace of the movie is slow with the actors relying on communicating through gentle postures or just looks. Few words are needed in this emotional love story. Despite the mixing with dreamy fantasy, it is a true-to-life portrait of people living in modern-day Mumbai. (Birgit Schrumpf)