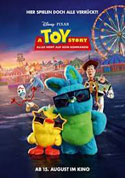 A Toy Story – Alles hört auf kein Kommando (Toy Story 4)
U.S.A. 2019
Opening 15 Aug 2019
Directed by: Josh Cooley
Writing credits: John Lasseter, Andrew Stanton, Josh Cooley, Valerie LaPointe, Rashida Jones
Principal actors: Tom Hanks, Tim Allen, Annie Potts, Tony Hale, Keegan-Michael Key
Woody, Buzz Lightyear and the gang are joined by a few new friends as they go on an adventure with their new child, Bonnie. The newest toy, Forky, provides all with much adventure and fun.
Toy Story 4 from Pixar is as entertaining as the previous installments. There is romance, laughs, friendship and a slightly dark adventure in an antique store. For anyone who had a favorite toy as a child this gives you pause to think about what happened to those toys. Perhaps, as we said goodbye to Woody at the end of the film, we did so for the last time. (Christine Riney)


Second Opinion

Toy Story 4 may be the fourth installment of the Toy Story series, but it's a new beginning for this little family of toys. Andy has outgrown them and Woody (Tom Hanks), Buzz (Tim Allen) and the rest of the gang now find themselves belonging to a new kid, Bonnie. Even though Woody has been cast aside in favor of other toys, he remains loyal to his new kid and takes it upon himself to protect and educate the new favorite, Forky (Tony Hale), in the ways of the favorite toy. The challenge of teaching Forky leads to action, adventure, and death-defying rescue stunts. There's also a bit of romance as Woody reconnects with an old friend, Bo-Peep (Annie Potts), who's out in the world of lost toys following her own dreams. For added suspense, there's the addition of the toys trolling the antique store, Gabby Gabby (Christina Hendricks), and others who are reminiscent of some sinister toys that appeared in some original Twilight Zone episodes.
This little band of toys adapts to their new situation with loyalty, bravery, caring and resilience. They share of themselves and help others become what they were meant to be. And they learn when it is time to move to the next phase to follow their dreams, their inner voice. Should it seem that the toys are more loyal than their kids, as someone who's been chastised for not keeping certain toys, I can assure you they are not. Toys are special and the film celebrates this with humor, excitement and compassion. A superb movie for kids and anyone who was ever a kid. (Anne Crocker)


Third Opinion

Everybody remembers Andy and Woody's adventuresome escapades. Naturally, kids grow to adolescence leaving friends behind, or, bequeathing them to new homes. Such is Woody (Hanks) and gang's lot with Bonnie (McGraw). At kindergarten orientation day, Bonnie makes a new friend, Forky (Hale), and then the family takes a road trip bringing all Bonnie's toys along. When Forky goes missing, Woody goes to the rescue; consequently, they not only bump into long-gone friend Bo Peep (Potts) with sheep, they learn, among other things, about shelf time and second chances. Meanwhile, Buzz Lightfoot (Allen) takes over the controls, subsequently meeting Bunny and Ducky (Jordan Peele and Keegan-Michael Key improvise). Eventually, Bo leads them to places never-before visited where they meet her toy friends, like Giggle McDimples (Ally Maki) and Duke Caboom (Keanu Reeves), then go antiquing and encounter Gabby Gabby (Christina Hendricks) and the obsequious Benson. Under time pressure with best-laid plans repeatedly crashing, a cool voice reminds them, "Be all that you can be right now."
Pixar's Number 4 follows in the genus of Toy Story (1995, its first feature), Toy Story 2 (1999), and Toy Story 3 (2010). Josh Cooley's directorial debut, Toy Story 4 is not a sequel per se, instead somewhat a romantic-adventure-comedy stand-alone. Number 3, like Beauty and the Beast (1991) and Up (2009), received an Academy Award nomination for Best Picture plus four other nominations, winning two. Many of the stellar ensemble voice cast reprise roles, including Joan Cusack/Jessie, Blake Clark/Slinky Dog, Wallace Shawn/Rex, John Ratzenberger/Hamm, Carl Weathers/Combat Carl, Kristen Schaal/Trixie, Jodi Benson/Barbie, Bonnie Hunt/Dolly, et al. Plus new-old toys Betty White/Bitey White, Carl Reiner/Carl Reineroceros, Carol Burnett/Chairol Burnett, and Mel Brooks/Melephant Brooks.
Directors of Photography Jean-Claude Kalache, lighting and Patrick Lin, camera, Laura Phillips, Art Direction and Axel Geddes, Editing brilliantly unite with the magnificent computer-animation teams led by Lyon Liew, Lead Simulation Technical Director. Randy Newman again composed, and conducted, marvelous tunes to match onscreen excitement. Dedicated to Don Rickles, †2017 (Mr. Potato Head, archival voice) and animator Adam Burke, †2018, the film gives special acknowledgement to the orchestra, "[F]or bringing the music to life."
Many subtopics are woven in the narrative: friendships old and new, taking chances, sharing, trust, and helping others. Will Toy Story 4 cap off this wildly successful series? Its charming characters are particularly endearing friends that embrace life with gusto, and empathy. To be honest, does anyone ever really outgrow toys? (Marinell Haegelin)