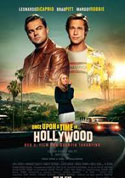 Opening 15 Aug 2019
Directed by: Quentin Tarantino
Writing credits: Quentin Tarantino
Principal actors: Leonardo DiCaprio, Brad Pitt, Margot Robbie, Emile Hirsch, Margaret Qualley
Picture this, Hollywood late 1960s; enter center stage, two hunky dudes played by Leonardo DiCaprio and Brad Pitt. Quentin Tarantino's casting of perhaps the last two real movie stars as buddies is absolutely brilliant for his ninth film, a sentimental epic love letter to the not so Golden Age of Hollywood.
Rick (DiCaprio) is on the downward slope of a successful TV series Bounty Law and very occasionally close to sobbing, but manly enough to mostly just let his eyes mist up. Cliff (Pitt), cooler than cool careening around the Hollywood Hills in Rick's Cadillac Coupe de Ville, is on an even more precarious path since he is Rick's stunt double and completely dependent on his friend's career. Cliff could be a California surfer poster boy, a shirtless scene of him on the roof fixing Rick's TV antenna is sizzling. (Yes, Brad, at 55 you've still got it!) Always smiling, always there for Rick, Cliff is never close to tears and not one to shy away from Tarantino's bent for brutality, naturally in the guise of self-defense. Always there for Cliff is his American pit bull terrier Brandy (Sayuri). You don't mess with Brandy. (Sayuri won the 2019 Palm Dog Award at Cannes.) (Really.) Marvin Schwarzs (Al Pacino), a swarmy film producer, tries to lure Rick to Italy to make Spaghetti Westerns to keep his career from waning. Margot Robbie is perfectly cast as Sharon Tate, Rick's bubbly, blonde, and innocent neighbor on Cielo Drive, historically a tragic victim of the Manson Family. Sharon shines when, incognito, she visits a local movie theater and unashamedly watches herself in the Dean Martin comedy The Wrecking Crew reveling in the audience's reaction. Actually it's fun watching the actor Robbie watching the real-life Tate.
Truth and fiction, real and fake, authentic and inauthentic are seamlessly meshed throughout the entire film. Tarantino has created an alternate universe which closely replicates the late '60s in Southern California, infusing it with the sounds, sights, and events from fifty years ago: some real, some not.
So much attention is placed on detail. TV sets are always on, some broadcasting genuine shows like Mannix; others showing made-for-the movie TV series and movies which Tarantino filmed for fun. Familiar food products sit on the kitchen shelf: Kraft Macaroni & Cheese, Tang, Wonder Bread, Cheez Whiz. The bogus Wolf's Tooth brand dog food for Brandy is a little too campy especially the can labeled "rat flavor". Real diehard Tarantino fans recognize Red Apple as a fictional brand of cigarettes that appears in many of his films. Rick/Leonardo suavely promotes them in a satirical ad during the final rolling of the credits, till the camera stops. If you didn't know better you might have thought they were real cigarettes.
Those who grew up in Los Angeles like Tarantino must revel in revisiting the Van Nuys Drive-In (now demolished) and restaurants Casa Vega, and Musso & Frank's, both still standing. Tarantino also takes us to less-visited but even more sordid venues: the Playboy Mansion, home to Hollywood celebrities and the Spahn Movie Ranch, home to Manson Family.
The sound track makes the '60s come to life. "California Dreamin'" by Jose Feliciano, "Mrs. Robinson" by Simon & Garfunkel, and "Hungry" by Paul Revere & the Raiders (in a creepy scene where Tate meets Manson) are just a few of the more than 30 tracks adding to the cacophony of 60s' acoustic soundbites. A KHJ Los Angeles' Weather Report and a Mug Root Beer advertisement add to the almost subliminal audio ambiance.
A huge ensemble cast of renowned and less renowned actors join in the fun: including Dakota Fanning, Bruce Dern, Mike Moh, Luke Perry (his last film), Lena Dunham, Damian Lewis, Kurt Russell, and Nicholas Hammond. Two outstanding newcomers steal their scenes: Margaret Qualley as hitchhiking hippie Pussycat, an alluring but ultimately resistible Mason Family siren, and twelve-year-old Julia Butters, the precocious child actor Trudi who intellectually challenges veteran actor Rick Dalton.
Once Upon a Time in…Hollywood is a nostalgic black comedy with a tribute to the movie industry and the '60s. Tarantino fans expect more, a wild, violent ride; and with a little twist and a flamethrower, he doesn't disappoint. There is still room for dreams in the Tinseltown of the '60s, but leave a space for your worst nightmares. (Pat Frickey)