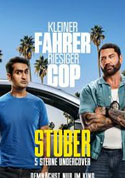 Stuber – 5 Sterne Undercover (Stuber)
U.S.A. 2019
Opening 22 Aug 2019
Directed by: Michael Dowse
Writing credits: Tripper Clancy
Principal actors: Dave Bautista, Kumail Nanjiani, Mira Sorvino, Natalie Morales, Iko Uwais
A zany, lustig buddy flick with great chemistry between the two leads best sums up director Michael Dowse's action-packed Stuber – 5 Sterne Undercover. Contrasting Dave Bautista/Vic (Avengers: Endgame, 2019) and Kumail Nanjiani/Stuber (The Big Sick, 2017) in every way—size, age, attitude, and social media/tech skills—adds witticism and tension to screenwriter Tripper Clancy's dialogue during shenanigans and predicaments the pair encounter.
After a raucously ferocious introduction above the opening titles, we catch up with burly L.A. police Detective Vic six-months on, and meet courteous Stuber. Driving an Uber to earn additional income, Stuber is obsessed with getting five stars for excellent service. Concurrently, Vic, still intent on eradicating villainous Teijo (Iko Uwais)—introduced in the opening sequence—is told to back off by Captain McHenry (Mira Sorvino). On this particular day, and following a hot lead, Vic utilizes Stuber's services; during some initial tight spots, Stuber gushes whereas Vic parries. Unbeknownst to Vic, Stu is antsy because longtime friend Becca (Betty Gilpin) needs help. Their impasse is broken at the Veterinarian's (Scott Lawrence); Stu meets Vic's daughter (Natalie Morales), and Vic meets Stu's boss (Jimmy Tatro). Then everything spills over at the Fiery Monkey Hot Sauce factory; it is "silent, but deadly."
Good production values are by Jonathan Schwartz – editing, Bobby Shore – cinematography, and Joseph Trapanese – music. The movie also provided 15,000 jobs and thousands of work hours. So, for thrilling summer entertainment, Stuber is a sure-fire pick, with a word of caution. It is for mature audiences because of its profanity, and excessive gunplay and dropping bodies. (Marinell Haegelin)


Second Opinion

Stuber is a crazy action-thriller-comedy that tries to give us a view into the life of an Uber driver, namely Stu Prasad (Kumail Nanjiani). He works hard at his two jobs, but, since he is being hassled by the owner's son at the sport store, he focuses on making it big at his second job: an Uber driver. After a series of rides, his success seems a sure win until he meets L.A. police department detective Vic Manning (Dave Bautista). Stu like many Uber drivers is counting on the star-rating system from the online-Uber app and becomes obsessed in getting those five stars. In the meantime, Manning has had laser surgery on his eyes and needs to relax, but when he gets wind that the drug lord/cop killer Oka Tedio (Iko Uwais) is in the neighborhood, the chase is on. It is interesting to note that Indonesian actor Iko Uwais had a grandfather who was a Master in Silat, a martial arts form practiced in this region and he too is an expert. Uwais wastes no time in this movie to show us how fast he is in this combat. He looks like another Jackie Chan who has made it to the screen.
Due to laser surgery, Manning finds he's handicapped and begins looking for a partner to aid him in solving this case. This film really follows along the trail of stupidity but it is so stupid that it's funny. As a comedy team, Baustista and Nanjiani have the chemistry to make a great film; unfortunately, this one falls short. The film covers the cityscape of L.A. from the art scenes to the humane society but the script just didn't have the depth needed to pull this off, despite the new twist of having an Uber Calvary that might save the day. The moments of creativity were unfortunately dulled by the attempts to make everything fit into a box. The film had a missed opportunity. This year thousands of Uber drivers in California were on strike. After years of working hard at their jobs, the company decided to cut their pay in half. It seemed to be just another globalization story where the big company takes all leaving the Uber driver to be the slave. But one can see how much power the drivers have to block city traffic to win at the end of the day. These drivers did win a settlement so it looks like there is a Uber Calvary out there somewhere, just not in this movie. (Adrian Schoeneshoefer)