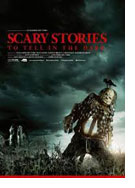 Opening 31 Oct 2019
Directed by: André Øvredal
Writing credits: Dan Hageman, Kevin Hageman, Guillermo del Toro, Marcus Dunstan, Patrick Melton
Principal actors: Zoe Margaret Colletti, Michael Garza, Gabriel Rush, Austin Abrams, Dean Norris
"Stories hurt, and stories heal … they make us who we are." Especially childhood stories, and particularly when they are scary. Master wordsmith Edgar Allen Poe knew the power of words, and his works are credited with establishing detective stories, and influencing mystery and science fiction literature. Also iconic is Alvin Schwartz's 1981 anthology series of horror tales for children. Steeped in folklore and urban legends, this same titled film is based on that series. Fertile imagination will make a molehill into a mountain, as Norwegian director André Øvredal proves in the chilling Scary Stories, while working from a great screenplay.
Kids still go door-to-door trick-or-treating, the Viet Nam War is raging, and U.S. presidential elections loom on this Halloween night in 1968. Suitably costumed, high school friends Stella (Zoe Margaret Colletti), Auggie (Gabriel Rush), and Chuck's (Austin Zajur) mischievous plans include payback for Tommy (Austin Abrams), the town bully. Concurrently, traveler Ramón (Michael Garza) attracts Chief Turner's (Gil Bellows) attention, while Stella's aloof father (Dean Norris) takes on more work. In due course, the four teens go to the Bellows' haunted house; Mill Valley's founder and paper mill magnate's daughter Sara's (Kathleen Pollard) tragic life mysteriously provoked her face scratched out of every photograph. Scary yes, but not nearly so much as what follows their breaking that lock and traipsing into the past.
Evenly paced (Patrick Larsgaard, editing) and well-crafted (Roman Osin, cinematography, Marco Beltrami and Anna Drubich, music, and David Brisbin, production design) the true wizards are the makeup department team's astounding artistry, and atmospheric recreations of some of the original illustrations by Stephen Gammell in Schwartz's anthology. Besides the shrewdly worded screenplay's unexpected scariness, Guillermo del Toro's (The Shape of Water, 2017) contribution is evident in recreating that period's nostalgia, turmoil, and ghostly reminders. Entwined in this insightful and suspenseful murder-cum-detective story are jump out of your skin scenes, too.
Legend has it: "Ask Sara to tell a story after dark; it'll be the last story you'll hear…" Seeing as stories are so powerful they can become real, why not find out for yourself. (Marinell Haegelin)