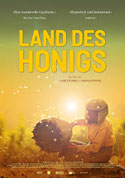 Land des Honey (Honeyland)
U.S.A. 2019
Opening 21 Nov 2019
Directed by: Tamara Kotevska, Ljubomir Stefanov
Writing credits: documentary
Principal actors: Hatidze Muratova, Nazife Muratova, Hussein Sam, Ljutvie Sam
Hatidze Muratova's life is unimaginably simple: she cares for 85-year-old half-blind mother Nazife, and hunts wild bees in a remote area of Macedonia. In their primitive hut, by candlelight, they communicate in an ancient Turkish dialect, and by daylight she helps Nazife eat, washes her hair, et al. in a seemingly deserted village. The heart of this documentary-cum-allegory is, however, how Hatidze supports them, which is profoundly in harmony with the environment. The last female bee hunter in Europe wants people to understand bees' vital role in ecology.
Familiar with natural beehives around the region, Hatidze collects, protects, and respects bees. She calls to them, cooing softly while delicately putting honeycomb in jars. That bond permits her opening a beehive without a protective mask. From a hillside high above a valley, to pulling stones from wall ruins, to a huge, fallen tree trunk, she prudently collects from wild bees' hives. Trips to Skopje provide Hatidze with a market for honey, shopping and getting-together with people. Their tranquility is transformed when a large noisy family moves-in a stone's throw away. Busy as ants settling in, the Sam brood becomes agreeable company; Hatidze's sensitivity and humor with Ljutvie and their seven children, and eagerness to share is delightful to observe. Then Hussein takes an interest in cultivating a honey business, and initially Hatidze shares advice and wisdom. However, with a supplier goading Hussein they are greedy, therefore jeopardizing the harmonious balance paramount for bees' survival Hatidze worked hard to achieve.
Directors Tamara Kotevska and Ljubomir Stefanov returned over three years to film the fascinating, compelling, and personable Hatidze whose passionate about sustainability, its vulnerability, and our responsibility. When the nomads arrived unplanned on scene environmental, it was decided to include them as representative of conflicts in nature. Once trust was gained, the filmmakers shot in two, director-cinematographer (Fejmi Daut, Samir Ljuma) teams using only available light and sound recorded on DSLR cameras (Rana Eid, sound editor). The editing (Atanas Georgiev) and music (Foltin) demonstrate kinship with the culture.
For Tamara and Ljubomir, the unexpectedness of Honeyland's success is fantastic; with winnings from festival awards, they purchased Hatidze a house in a nearby community where relatives and friends live. For global audiences, the many-layered documentary has resonated with specific social issues, and more generally, consumerism in Western societies. Mankind can learn something from Hatidze: scraping honeycombs into jars, she whispers to bees, "Half for me, half for you." (Marinell Haegelin)