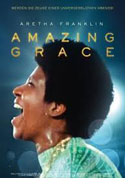 Aretha Franklin: Amazing Grace (Amazing Grace)
U.S.A. 2019
Opening 28 Nov 2019
Directed by: Alan Elliott, Sydney Pollack
Writing credits:

You know you are seeing something amazingly special when watching this documentary. Pop artist Aretha Franklin was at a career pinnacle when she decided to release a gospel songs album in 1972. She insisted on recording live at the Missionary Baptist Church in Watts, Los Angeles together with King of Gospel, Reverend James Cleveland and the Southern California Community Choir. Fittingly, Aretha and James combined their daunting talents arranging the concert-service. Warner Brothers hired director Sydney Pollack to film the two consecutive nights. However, Pollack was unaware using a clapperboard is critical for audio/visual synchronization later; the unusable footage was shelved 47-years.
The Reverend instructs people about recording, i.e., retakes, and it being a church service "you too can be a part of." He introduces the choir, and then, "My sister, Aretha – Lady Soul." Some of the hymns sung are "Wholy Holy," "Precious Memories," "Mary Don't You Weep," and "Never Grow Old," during which women dance in aisles. Aretha and James sing hymns and sacred songs in "call and response" that participants euphorically accompany waving arms, repeating words or "Amen," and rhythmically clap to.
The second night's special guests include Miss Clara Ward, and legendary Reverend C.L. Franklin, Aretha's daddy. Additionally, Mick Jagger and Charlie Watts are spotted rocking out in a front row. At one point, choir director Alexander Hamilton takes James place at piano; thus, James bows his head in tears.
Amazing Grace is about history, about cultures and cultural identity, about injustices, and about redemption. Most of all, Amazing Grace is a soul enriching and uplifting Gospel song that brings comfort to countless numbers of people. Before his death, Pollack authorized director-producer Alan Elliott to (attempt to) complete the film; Elliot mortgaged his home to buy out W.B., and the rest is history… rediscovered. Talking about his daughter growing up, C.L. describes Aretha, " [W]ith that intangible thing that's hard to describe." Although it is clear, to anyone watching Amazing Grace. (Marinell Haegelin)