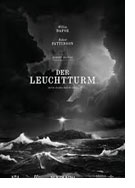 Der Leuchtturm (The Lighthouse)
Canada/U.S.A. 2019
Opening 28 Nov 2019
Directed by: Robert Eggers
Writing credits: Max Eggers, Robert Eggers
Principal actors: Willem Dafoe, Robert Pattinson, Valeriia Karaman
On a foggy day, two lighthouse keepers make their way to the remote island where they will spend the next four weeks. Thomas Wake (Willem Dafoe) and Ephraim Winslow (Robert Pattinson) have never worked together before, and it is clear from the start that they are two very different people. Wake is blustery and gritty, full of sea stories, and has a propensity for strong drink. Winslow is quieter, more focused, but generally unhappy with the imbalance of power between him and his superior. The days plow on indeterminately and soon the relationship between the two becomes tumultuous as the isolation of their circumstances settles in.
Shot in black and white 35mm film, director Robert Eggers (known for his 2015 breakout film, The Witch) shows his prowess behind the camera with his intricate usage of angles, shadows, and light. While the story is often trippy and unsettling, the cinematography and direction always impresses. In addition, both Dafoe and Pattinson support the beauty of the images with some of the strongest acting performances of their careers. Their deft characterizations are compelling and sympathetic, even as the story ramps up and their relationship becomes an odd mix of fondness, resentment, and madness. This is not an easy or simplistically entertaining film, but audiences looking to work a little for an enriching experience, there is a lot to appreciate artistically. Ethereal and beguiling, The Lighthouse is a bizarre film, but for those looking for a dark, challenging, and expertly composed piece of cinema, it should check all of the boxes. (Rose Finlay)


Second Opinion

In 1890, New England coastline lighthouses are crucial, and must be maintained, for the busy seafaring trade. Thus former timberman Ephraim Winslow (Robert Pattinson) arrives on a small, isolated island for a four-week stint as a "wickie"– contract work – to obtain pecuniary gain. The solitary, curmudgeonly lighthouse keeper Thomas Wake's (Willem Dafoe) aloofness, and faultfinding seem inexhaustible; it seems to Winslow the desolate lifestyle, unsurprisingly, is taking its toll. He perceptibly intensifies Winslow's workload with more exacting jobs. Until the keel evens, and steadies enough that they toast themselves. But, the omnipresent bird, a wood carved mermaid, and a rain lashed tempest are harbingers, augmented by too much drink. In its aftermath, little is left. Save perhaps, a spot of darkness on the coastline.
Director Robert Eggers' infatuation with the past includes his first film, a short, The Tell-Tale Heart 2008, followed by the feature, The Witch in 2015 that Dafoe and Pattinson liked. Each contacted him about working together. Meanwhile, brother Max Eggers's idea—loosely based on fact—was flushed out, and produced. Missing is a substantial plot, and likable characters; the Winslow and Wake personas are known only through various stages of madness. Besides the guys, the birds, and a hallucinatory mermaid (Valeriia Karaman) there is nothing else to distract. Unless it is the mishmash of stylistic choices: Shakespearian-like monologues, allusion to Hitchcock's The Birds, plus Moby Dick's aquatic frenzy, and antiquarian statue-like nude poses—emphasized by the ponderous length of time onscreen. Compounding the tedious screenplay is clumsy editing (Louise Ford), plus wearisome editing tricks. Using crisp black/white film might have helped audiences feel more present, rather than emulating the bland orthochromatic cinematography (Jarin Blaschke) of 19th century. Der Leuchtturm screened at Filmfest Hamburg 2019, where later many journalists said they used the time to nap and that was a better use of time. (Marinell Haegelin)