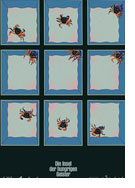 Insel der hungrigen Geister (Island of the Hungry Ghosts)
Germany/U.K./Australia 2018
Opening 17 Oct 2019
Directed by: Gabrielle Brady
Writing credits: Gabrielle Brady
Principal actors: Arthur Floret, Poh Lin Lee
Island of the Hungry Ghosts is one of the most hauntingly beautiful movies I've ever seen. Watching it is like witnessing poetry unfurl on screen – poetry enriched by unbelievably vivid sounds and images.
Director Gabrielle Brady calls this movie a "hybrid documentary", by which she means it combines straight-forward documentary footage and reconstructed scenes, many of therapy sessions between patients and a trauma therapist, Poh Lin Lee. The island of the title is Christmas Island, an Australian territory set in the middle of the Indian Ocean, hundreds of miles from Java, and a thousand miles from the Australian mainland. Here, on this barely inhabited island, the Australian government houses asylum seekers, refugees, and would-be immigrants indefinitely in a massive detention center, in the hopes of deterring future immigrants. And here Poh Lin Lee provides these men and women with therapy sessions. But she has no chance of making a positive impact on the lives of these traumatized individuals as the government constantly moves the detainees around and doesn't deliver them to their sessions, never bothering to inform Poh Lin of her patients' whereabouts.
Interwoven between the conversations she has with the detainees are scenes of an annual mass migration of the island's crab population, millions of bright red creatures who slowly migrate from the jungle at the heart of the island to its shores to breed. The sheer number of these scuttling, prehistoric creatures – and the sounds of their pilgrimage – are beyond striking. We see workers closing off roads to protect the animals as they move across the island or constructing little bridges to help them progress.
The third thematically linked migration in the film is the ceremonial practice of honoring the island's "hungry ghosts". These are the trapped spirits of Chinese laborers who were brought to Christmas Island and died in obscurity. Their descendants honor the memory of these ill-treated immigrants, hoping to release them from their state of limbo with religious ceremonies that imbue the film with its melancholic and unearthly air. Brady beautifully and metaphorically weaves together these various tales of migration and suffering, relying heavily upon sounds to capture the surreal beauty of the natural surroundings, and the all too real suffering of its human occupants. Long after I've forgotten what Island of the Hungry Ghosts is about, I know I will link its name to the sensation of being utterly captivated by a work of art. (Diana Schnelle)