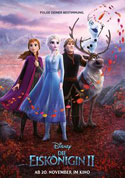 Die Eiskönigin 2 (Frozen II)
U.S.A. 2019
Opening 21 Nov 2019
Directed by: Chris Buck, Jennifer Lee
Writing credits: Kristen Anderson-Lopez, Chris Buck, Jennifer Lee, Robert Lopez, Allison Schroeder
Principal actors: Kristen Bell, Jonathan Groff, Evan Rachel Wood, Jason Ritter, Idina Menzel
In this sequel to the animated adventure Frozen (2013), three years have passed and, why Elsa has magical powers is yet to be explained. King Agnarr's (Alfred Molina) bedtime story – "Far away, as far north as we can go…" to little Elsa (Mattea Conforti) and Anna (Hadley Gannaway) causes so many questions Queen Iduna (Evan Rachel Wood) tells daughters instead about a river and memories. Then, in the course of a song, the sisters are smart, strong-spirited women happily living in Arendell. Elsa (Idina Menzel) is Queen; even so, a siren's call to the North's ancient forest causes restlessness and unease; Elsa makes a decision. Confiding in Anna (Kristen Bell), soon Olaf (Josh Gad), Kristoff (Jonathan Groff) and the loyal, lovable Sven en masse head into the unknown. This course of action will save, or condemn Arendelle; it all depends on learning a truth that can set them free.
Chris Buck and Jennifer Lee were given creative freedom; the upshot is a balanced, lively stand-confidently-on-its-own animation. The follow-up storyline compliments and expands on the computer-animated musical fantasy, Frozen. Inspired by The Snow Queen fairytale by Hans Christine Anderson, in Frozen ll any dangling questions, e.g. where Elsa's powers derive from, are answered with Voice veterans returning in lead roles, and Sterling K. Brown, Evan Rachel Wood, Alfred Molina, Martha Plimpton, Rachel Matthews, and Jason Ritter joining the talented cast.
Frozen ll has the look and feel of Disney animations of yore; Jeff Draheim edits and Christophe Beck scored the film, with Kristen Anderson-Lopez and Robert Lopez returning to write some great new songs—Frozen's "Let It Go" won the Best Original Song Oscar® and made film-song history. Production Management was broken down whereby the many departments were responsible for just one area, e.g. Creative Legacy, as were Animation/Effects teams subjects, e.g. Crowds, et al. creatively collaborated. As with Frozen, location filming was Chicago, Illinois, USA (forest); additionally, Norway, and Iceland, Sagaøya (beach, forest). Equally, much inspiration was drawn from Nordic runes, and Scandinavian cultures; end credits include thanks to the indigenous Sámi culture.
This people-pleasing film is for Disney fans old and new, young and old with an emotional range from laugh-out-loud to poignancy. The Frozen animations are ones that create family traditions, i.e. as Holiday favorites when everyone gathers round to watch them, while remembering Agnarr's sage advice to daughters, "Just do the right thing" and go for the light. (Marinell Haegelin)


Second Opinion

Change is in the air. A mysterious voice calls to Queen Elsa (Idina Menzel), one that reminds her of the past and which might hold answers about the magical powers with which she has struggled all her life. When powerful spirits threaten the safety of the kingdom, Elsa, Anna (Kristen Bell), Kristoff (Jonathan Groff), and Olaf (Josh Gad) must go on a journey to an enchanted land which has been cut off from the world for decades. Will Anna and Elsa manage to save Arendelle, or will magical forces destroy all that they hold dear?
Considering the success of the first film and the fact that Frozen II has already broken the record for the most ticket presales of any animated movie to date, there is no question of it becoming another megahit for Disney. However, where Frozen (2013) had the benefit of being a refreshing new take on the princess genre with its focus on sisterhood and a plethora of catchy songs, the sequel slump is unfortunately pronounced in Frozen II as its incoherent story and often forgettable music feel more like a film made by committee than a creative original production. Don't worry though, there's a big catchy song for Idina Menzel to sing at the Oscars again next year. However, it feels less like the true expression of Elsa's emotions and more like a callously placed marketing ploy. No doubt some company bigwig was happy to check "hit Disney pop song guaranteed to sell soundtracks" off his list of important things to include in the sequel. Regrettably, movies made with the singular goal of profit over creativity seldom make for good entertainment. Was there really even a need for a sequel to Frozen? Even the script struggles to adequately answer that question.
One of the biggest disappointments is that the story of Frozen II often disregards the character growth that was so integral to the plot of the first film. In Frozen, Elsa learns the importance of sharing her feelings and accepting the help of her family and friends, as bottling things up can have lasting consequences. In the sequel, this lesson apparently has been forgotten as she continues to keep secrets and push Anna away when things get difficult. Olaf, who was a representation of the love and joy of the sister's childhood relationship, becomes a rather useless (and often annoying) stand-in for the children in the audience and does little to further the plot. Perhaps even worse is Kristoff, who is pigeonholed as the awkward boyfriend whose single purpose is to be a bungling comic relief (except when he is needed to be Anna's own personal reindeer-riding deus ex machina). It was perhaps easier for the filmmakers to revert the characters back into their earlier states, but by not providing a continuation of their growth from the first film, Frozen II feels like a poor rehash of the original.
Sequels should be made when there is still a story left to be told, but this rule was apparently forgotten when making this film. Instead, plot points were retconned and character arcs were disregarded in order to come up with a reason for the sequel's existence. The screenplay is a mess of confusing magic and an overly simplified story of colonial reparations (this is not a joke, it is pretty blatant by the end) which generally don't make much sense or have any emotional depth. Consequently, Frozen II does little to convince audiences that it is more than just a typical, poorly composed, soulless Hollywood cash-grab. Considering the surprising authenticity of the first film and its beloved status amongst a generation of children, it is unfortunate that Disney didn't take the time to come up with a more meaningful and magical story. (Rose Finlay)