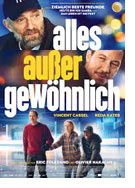 Alles außer gewöhnlich (The Specials, Hors normes)
France 2019
Opening 5 Dec 2019
Directed by: Olivier Nakache
Writing credits: Olivier Nakache, Eric Toledano
Principal actors: Vincent Cassel, Reda Kateb, Hèléne Vincent, Bryan Mialoundama, Alban Ivanov
I went into this film expecting a kind of feel-good rehash of this writer-director team's huge 2012 success Intouchables (Ziemlich Beste Freunde). Surprisingly, this real-life story takes on the theme of social integration with a much wider lens and a multicultural array of helpers. It ends up being nothing short of inspiring.
Bruno (Vincent Cassel) and Malik (Reda Cateb) each run volunteer organizations in metropolitan Paris (based on the real organization Le Silence des Justes) to care for severely disabled autistic adolescents and young adults. Over time Bruno's Jewish organization and Malik's Moslem foundation have found communal ground, and they pool their resources to solve the most pressing issues each day.
We are confronted with severely autistic young people with backgrounds of self-destruction, young adults without language, with severe phobias or huge social connection issues. Most of the young people entrusted to the caretakers have had backgrounds of forced closed hospitalization under heavy sedation. In the worst case they have been considered too much of a risk even for these organizations and left at home without social stimulus in the care of helpless parents. With Bruno's and Malik's help these young adults experience the freedom of a day in the countryside, a stay outside the closed wing of a hospital, a first job experience.
Interesting is that Bruno and Malik employ teams of school dropouts and difficult young adolescents from the banlieues with their own developmental issues, who have no formal degree or work experience, to take on the one-to-one care that is necessary. One of these is the remarkable Dylan (Bryan Mialoundama), whose internship into responsible adulthood is central to the film. The lack of qualifications raises the ire of state health control auditing officials, who insist on a seal of state approval for standards of care. Yet the film shows the paradox: these very standards lead to severely autistic young people being locked up and sedated.
Vincent Cassel is excellent in the role of Bruno, forever chain-smoking, on the phone finding a solution for yet another impossible case, hopelessly distracted on arranged dates, emotionally drained in his tiny little flat at night looking out over the distant lights of the city. A lonely hero of our times. (Ann Gebauer-Thompson)


Second Opinion

The filmmakers of Ziemlich beste Freunde (Intouchables, The Untouchables) Olivier Nakache and Éric Toledano are back with another masterpiece!
According to the two French officials from the state agency IGAS there is no way that Bruno (Vincent Cassel) and Malik (Reda Kateb) should be taking profoundly autistic children ice skating or on weekly outings to a horse farm. Middle-aged bachelor Bruno, who wears a yarmulke under his baseball cap, has devoted his life to care for severely autistic children and adolescents who nobody wants. Malik, his Muslim friend and father of three children, runs an organization that trains youth from deprived urban areas (not all documented) to become caregivers to these children. Neither of their agencies is state licensed.
Though the film is heartwarming, there is nothing sanitized about it. The dozens of children in their care are often uncommunicative, unpredictable and violent. Adolescent Joseph (Benjamin Lesieur, who is autistic and brilliantly plays a version of himself), can fix any broken washing machine. When Bruno finally gets him a job at a repair shop he struggles to ride the metro alone without giving into his compulsion to set off the alarm. Another young teenager Valentin has to wear protective headgear to stop him from injuring himself. (The actor himself has a brother who is autistic). Valentin is cooped up all day and his only escape is occasionally getting to the farm to connect with the horses.
This fast-paced comedy, yes comedy, makes you want to cheer for the good guys, Bruno and Malik, who are based on real people (Stephane Benhamou and Daoud Tatou). They are in a race to save every endangered autistic child who has fallen through the cracks of the French care system. Hot on their trail are the two caricatured inspectors wanting to shut them down. Like all superheroes Bruno and Malik are fueled by adrenaline and powered by idealism. They are always in a hurry as they battle with both charm and ferocity against anyone who tries to rob their charges of their dignity and freedom. (Pat Frickey)