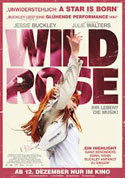 Opening 12 Dec 2019
Directed by: Tom Harper
Writing credits: Nicole Taylor
Principal actors: Jessie Buckley, Matt Costello, Jane Patterson, James Harkness, Julie Walters
Set in Glasgow, Scotland, director Tom Harper focuses on a young singer's quest to reach the top in Nashville, a metonym for American country music. Its strong storyline, with a screenplay by Nicole Taylor, essence is about how taking responsibility and giving up dreams does not necessarily go hand-in-hand.
Only 23-years old, Rose-Lynn (Jessie Buckley) already has two children and a prison record. Scornful when Mom (Julie Walters) stresses accountability, Rose-Lynn selfishly disregards it was Marion that fostered Wynonna (Daisy Littlefield), 8- and Lyle (Adam Mitchell), 5-years old during her imprisonment. The ex-felon is ejected from Glasgow's Grand Ole Opry, thus she lies to get a friend's job and is ever mindful of what she discloses. Cleaning the mansion gives her a glimpse of how the "other half" lives. Suzanne's (Sophie Okonedo) two children overhear Rose-Lynn singing, and tell mom; Suzanne pulls strings, whereby she meets her idol, Bob Harris. As doors open, Rose-Lynn's culpability reaches a zenith. Eagerly accepting a gig, the magnitude of Suzanne's plans plus Rose-Lynn's expected participation unleashes unfamiliar feelings. Shuttling her kids among sitters alongside a gnawing guilt, Rose-Lynn's innermost anxieties mount. But what Rose-Lynn eventually succumbs to, and sacrifices for, is love.
As Rose-Lynn, Jessie Buckley headlines the all-star cast in this personable, poignant coming-of-age musical drama. Rose-Lynn metamorphoses, albeit the process is slow and rocky considering her deviousness. Buckley's voice is amazingly good, just as she and Okonedo's contrasting portrayals counter-compliment. Production values shine (George Steel cinematography, Mark Eckersley editing, Jack Arnold music). Even though the songs might seem to be peripheral, and Wild Rose is gritty and sometimes bawdy, its theme "ain't no place like home," movingly rings true. Plus the good music goes far to make this feet tapping, head nodding viewing pleasure. (Marinell Haegelin)


Second Opinion

Coming from Colorado, I can really appreciate a music fairy tale dream which describes the birth of a country singer in the making. Rose-Lynn Harlan, brilliantly played by Jessie Buckley is a young, single mother fresh out of jail that is set on making her dreams come true. Her passion for country music becomes her true love for life. Due to her circumstances in life, the chances of obtaining this dream seems far out of her reach. With her guts and foul-mouth she manages to stay focued long enough to fight for a one-way ticket to Nashville, Tennessee, to get discovered. At age 23, she has a voice that shakes the dance hall; she rocks on the guitar and writes emotional lyrics telling her simple story that clearly paves the way her to make it all the way. Unfortunately, this wildly chaotic woman needs to learn to separate bull-shit from the real thing as she struggles with a bigger dilemma in her life. She is strapped with two kids who are the results of her wild teenage years. On top of it she is constantly reminded by her disapproving mother Marion (Julia Walters), who has taken care of her children, what her responsibilities are and that she needs to gets her act together. Rose-Lynn finally lands a cleaning job in a rich house and it seems that this may be her one and only chance when the lady of the house Susannah (Sophie Okonedo) believes in her.
The film gives us a feeling that country music is very much alive in Scotland. Rose-Lynn's ballads are written in simple yet emotional forms as she strums that guitar hoping one day she will make it despite all her hardship. It would not surprise me if your feet start tapping to the melody of the ballads, since music fits perfectly to the story and to the conflict between the characters gives us a more in-depth view into the everyday struggles in many lives in Scotland. This year two films are showing the strength of the impact music has on the youth. Both Wild Rose and BEATS truly opened my eyes as to how music plays an important role for many economically challenged individuals up there in the Great North of Scotland and without it, how desperate they would become. (Shelly Schoeneshoefer)