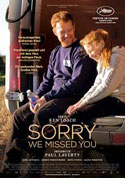 Opening 30 Jan 2020
Directed by: Ken Loach
Writing credits: Paul Laverty
Principal actors: Kris Hitchen, Debbie Honeywood, Rhys Stone, Katie Proctor, Ross Brewster
Ken Loach's socially aware films generally take the David vs. Goliath position, i.e. man against the system. Sorry We Missed You does a reversal; it focuses on how authorities bamboozle citizens. What better archetypes than a competitive parcel delivery firm, and a struggling, middle-class family of four? Loach's other detour, with a screenplay by Paul Laverty, is scrutinizing the male species under a particularly unflattering microscope.
Maloney (Brewster) is straightforward during Ricky's (Hitchen) interview about what is expected, should he join the franchise team, adding, "Like everything here, it's your choice." Relying on friend Henry's (Charlie Richmond) judgment, Ricky wheedles Abbie (Honeywood) to support his scheme. The Turners have been under tremendous pressure, yet she acquiesces. Abbie exhaustively balances home life with demanding, daylong caregiver assignments' marginalized customers. Additionally, teenager Seb (Stone) has problems at school, and at eleven, easygoing Lisa Jane (Proctor) is unaccountably wetting her bed. Hoping to deflect additional stress, Abbie withholds the worst from Ricky, until Seb's actions and attitude backlash forcing her hand. As their situation intensifies, Ricky turns any discord into a form of self-abnegation; just how out of step Ricky is hits hard in the unsparing yet succulent ending.
The stalwart cast, and strong production values (Robbie Ryan cinematography, Jonathan Morris editing, George Fenton music) help watching how unanticipated incidents affect a family. It is gruelingly transparent they are grappling to avoid spiraling into calamity and ruin. Kris Hitchen's difficulty poignantly portrays how the character's ego is fractured, conflicted, and distressed; Loach illustrates that nevertheless Ricky's self-centeredness and mammoth pride are intact. To underscore these character flaws, Loach contrasts the Abbie character that Debbie Honeywood's measured, balanced delivery dramatically emphasizes.
Since roughly the 1980s, the middle class squeeze was escalated by industries' move to cheap-labor countries, and technological changes. For at least the past 50+ years, government's laissez-faire attitudes and facilitatory actions, prolific profiteering, together with the exploitation of individual self-interests have proliferated, while "selfies" and tweets ostensibly have replaced compassion and conversation. The film is particularly important for Millennials and Generation Z, so they recognize the difference between Sorry We Missed You and sorry you were left behind. (Marinell Haegelin)