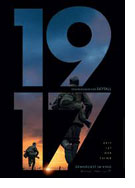 Opening 16 Jan 2020
Directed by: Sam Mendes
Writing credits: Sam Mendes, Krysty Wilson-Cairns
Principal actors: Dean-Charles Chapman, George MacKay, Adrian Scarborough, Andrew Scott, Richard Madden
Sam Mendes chooses singular topics; his debut feature film, American Beauty (1999), was about a suburban middle-aged father's sexual infatuation with high school daughter's best friend. It earned Mendes a Best Director Oscar®—one of only six first-time directors with that distinction—and became a classic. This story is no different. It is about a message, and takes place on the Western Front during the First World War, 1914-1918; although a small event, the consequences are huge. Co-written with Krysty Wilson-Cairns, it goes without saying Oscar® winner Roger Deakins' choreographed cinematography adds depth and texture to every unimaginable sight pulling us deeper into the story, apropos the opening sequence.
Initially, Blake (Dean-Charles Chapman) and Schofield (George MacKay) think the summoning is for some routine matter. Instead, a General (Colin Firth) orders them on a seemingly impossible mission: deliver an urgent message to Colonel MacKenzie (Benedict Cumberbatch) by morning. The General, knowing Private Blake's brother is with the regiment, stresses consequences will be dire if they fail. No small feat: first they must traverse "no man's land," and once behind enemy lines find a specific French village, then forest, to lead them to the Second. With odds against them and hundreds of men's lives dependent on them, over the top of the trench they go into the unknown.
The cast is exemplary, in addition to Mark Strong, Daniel Mays, Richard McCabe, Anson Boon and Claire Duburcq's cameo appearances. Editor Lee Smith's timing is fluid yet conversely succinctly brisk; Oscar® winner Thomas Newman's variable score builds on the action onscreen, even if at points too loud; Production Designer Dennis Gassner obviously labored to recreate that period under those conditions.
A consummate storyteller, Mendes shows nary a battle scene; instead, the effects of combat on nature—downed budding cherry trees (true)—plus the foiling by nature, humans—a lone surviving child, and those still involved in the theater—"There's only one way this war ends… last man standing." The complexities of warfare's senselessness emerge as details, scattered like crumbs across a dinner table, to capture our awareness, appall, and compassion. "Down to Gehenna or up to the Throne, He travels fastest who travels alone." Rudyard Kipling 110 minutes (Marinell Haegelin)