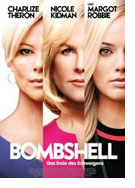 Bombshell – Das Ende des Schweigens (Bombshell)
U.S.A./Canada 2019
Opening 13 Feb 2020
Directed by: Jay Roach
Writing credits: Charles Randolph
Principal actors: Charlie Theron, Nicole Kidman, Margot Robbie, John Lithgow, Malcolm McDowell
Beginning with the title's double entendre, Bombshell's director Jay Roach and screenwriter Charles Randolph have assembled a compelling film. American Roger Ailes (John Lithgow) was a television executive, producer, media consultant, and pioneer in running political candidates campaigns created with devising the sensationalist political coverage. In the mid-1990s, Australian media mogul Rupert Murdoch (Malcolm McDowell) installed Ailes as CEO of Fox News. In 2005/6, Murdoch made him Chairman of the Fox Television Stations Group. The 24-hour cable channel caters to, for the most part, conservative Republicans, and to the politically right wing mindset.
Megyn Kelly (Charlize Theron) and Gretchen Carlson (Nicole Kidman) are popular, well-known newscasters. Always involved, Ailes' approval of female anchors is notorious, necessary, and often leads to his closer scrutiny. His motto, "it's a visual medium," translates to women looking and dressing sexy. New hire Kayla Pospisil (Margot Robbie) moves over to The O'Reilly Factor (Kevin Dorff), and subsequently shares her disappointment with Fox's Jess Carr (Kate McKinnon). In the summer of 2016, however, now-former anchor Gretchen Carlson hires two lawyers (Stephen Root, Robin Weigert) and files sexual harassment against Ailes. With wife Beth (Connie Britton) at his side, after meeting with attorneys (Allison Janney, Richard Kind) Ailes denies the allegations. Female employees are requested to support Fox. Nevertheless, within days the winds of change are sweeping over Fox, and the country.
Performances are deft by Theron, Kidman, Robbie and cast as they brilliantly deliver the tight smart dialogue. Based on facts, fictional characters and incidents have been inserted, e.g., the Kayla character. Demonstrating the naiveté of a Fox career newbie, Kayla is juxtaposed with seasoned newscasters hard-earned experience. Production values are great: Barry Ackroyd's cinematography occasionally uses a documentary-style approach, and Theodore Shapiro's music. Jon Poll's tight editing includes a couple sequences succinctly portraying the Fox building's tribal mentality, and ensuing feral atmosphere. Kudos to the special and visual effects people for subtly manipulating archival material by substituting actor's faces over real newscasters.
This fast-paced drama is a good narrative, rather than a deeper analysis of the pervading societal problem. Women have been forced to live with sexual harassment for centuries, apropos 'bridal kidnapping,' begun in the Dark Ages and rampant still is South East Asia. Still, Bombshell is a bullhorn of sorts worthy of a watch. (Marinell Haegelin)