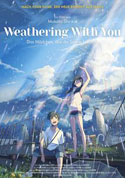 Weathering With You (Tenki no ko)
Japan 2019
Opening 16 Jan 2020
Directed by: Makoto Shinkai
Writing credits: Makoto Shinkai
Principal actors: Kotaro Daigo, Nana Mori, Shun Oguri, Sei Hiraizumi, Yûki Kaji
he new anime fantasy drama by Japanese director Makoto Shinkai and CoMix Wave Films opened July 2019 in Japan. Already at the first weekend's screening, with 830,000 tickets sold, Weathering With You topped its predecessor Your Name-Gestern, heute und für immer (1916). In January 2020 the dubbed version is showing in Germany.
Hodaka left high-school and his boring village to find his luck in the mega city Tokyo. The great excitement does not last long and days of continuous rain are depressing. He discovers how expensive and lonely life in the city can be and is desperately looking for work. Luckily, he gets a small job at a magazine where he has to write about life in the city by interviewing weird people and listening to their stories. This is how he hears about the legend of the "weather girl." One day he meets Hina, a lively teenage girl who is living on her own looking after her little brother Nagi. Hina has mysterious powers which enable her to influence the weather. She feels sorry that Hodaka has only seen it raining since his arrival in Tokyo. By concentrating on her prayer, she can make the rain stop, bringing bright sunshine over the city. Wow - how wonderful, how colorful suddenly life is! As both teenagers are short of money, they decide to create a business using Hodaka's talent. For weeks they are successful as many people want sunshine for a wedding, for a birthday or for a market day. Hina likes to make people happy but it also depletes her energy.
Trouble follows when the police discovers that she lives without an adult in the apartment. The children have to flee. Hodaka too is being chased as his parents are looking for him. But also a group of gangsters are on his heels. They want to get their pistol back which he picked up by mistake. The action increases with rapid change of scenery where the two youngsters have to face one disaster after another.
This Japan-style animated story of two teenagers in turbulent Tokyo is full of adventure, full of fantasy and romantic ideas. If you just sit back and let the story develop you will enjoy an explosion of colors and emotions.
The music of the Japanese rock-band Radwimps swings from romantic melody to fast beat to accompany the various mood changes. Director Makoto Shinkai wrote the story and is also responsible for photography, color design and editing of Weathering With You. It is Japan's most successful film for 2019 and on the list of top 15 films of all times. (Marinell Haegelin)