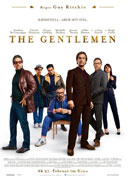 Opening 27 Feb 2020
Directed by: Guy Ritchie
Writing credits: Guy Ritchie, Ivan Atkinson, Marn Davies
Principal actors: Matthew McConaughey, Charlie Hunnam, Michelle Dockery, Jeremy Strong, Lyne Renee
Pure Guy Ritchie, and priceless, The Gentlemen is to savor: "If you want to be King of the jungle, you must be the King." And, so he is. Assembling a "to die for" cast, and then giving them a droll, sassy, smart and humorous script (written by Ritchie) the ensemble delivers stupendous, nuanced performances with character-particular accents. In many scenes, e.g., when Big Dave (Eddie Marsan) wakes up in the van, the timing, facial expressions, and lack of dialogue trigger out-loud laughter. Everyone knows the difference between men and boys is the price of their toys, and these six gents all have toys worth protecting: Mickey Pearson/Matthew McConaughey, Fletcher/Hugh Grant, Ray/ Charlie Hunnam, Dry Eye/Henry Golding, Matthew/Jeremy Strong, Coach/Colin Farrell, and the aforementioned Big Dave. As with boys, what one does not think of, the other uncannily will.
The gist of the tale is Mickey, after fashioning himself a gentleman, wants to sell his very lucrative business to retire with beautiful wife Rosalind (Michelle Dockery) to a leisurely lifestyle. Matthew has the qualifications: posh, upper class background, a keen interest in the field, and (most important) the money to buy Mickey's vast enterprise. Nevertheless, competitors' nudging into the negotiations brings surly types, together with associations mired in internal power struggles. Add to that that Mickey's (trying to) broker an honest transaction bests them. Then Fletcher contributes to the conundrum by showing up at Ray's house (uninvited) to pitch what he is convinced is a terrific storyline. With the powers that be thinking they are in control, the countdown starts. Tick, tock.
Ritchie's attention to details is ginormous, and uniquely demonstrated by Michael Wilkinson's costumes accentuating each character's personality—wait until you see Farrell, just as Christopher Benstead's music is finely tuned to the shenanigans afoot. Dead right are James Herbert's outstanding editing with its attention-grabbing sequences, and Alan Stewart's cinematography, Lucinda Syson's casting, and Gemma Jackson's production design.
As our eclectic, eccentric gangsta' friends go rushing after modern day gold, settle back and relish this crime drama. Just as these sophisticated gentlemen are not always polite, neither is Ritchie as the web of suspense spins out tautly stretching over its prey. What makes The Gentlemen priceless is the good mood one leaves with, ready to see it again. "It's not the first domino…it's the last" that counts. (Marinell Haegelin)