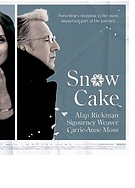 Opening 2 Nov 2006
Directed by: Marc Evans
Writing credits: Angela Pell
Principal actors: Alan Rickman, Sigourney Weaver, Carrie-Ann Moss
Snow Cake is one of those rare movies where all the parts come together perfectly to make a small masterpiece. The acting from every member of the cast is superb and Sigourney Weaver and Alan Rickman give performances that are so nuanced and intelligent that you are awed by how perfectly they hit the mark. The script delivers in many ways: great dialogue throughout the film (including the interchanges between Vivienne ( Emily Hampshire) and Alex Rickman; compassion and humor, not pathos, and a loving portrayal of an autistic woman which will stay with you for a long time.
Alex is a taciturn, fiercely reserved Brit on a journey to Winnipeg in the Canadian winter. When he stops for a meal in a diner and a young woman asks to sit at his table, he is visibly annoyed. She's a cheerful, bouncy type who wants to talk and, sensing a deep sadness behind his closed face, wants especially to get him to talk. She also wants a ride. Eventually, but reluctantly, he takes her along with him but as she climbs into the SUV he tells her he has just gotten out of jail for killing a man. She hesitates for an instant but then gets in the car, and as the ride progresses, he warms, ever so slightly, to Vivienne's childlike charm, and off-beat insights into the human psyche. They stop for a crossing and suddenly a semi-trailer ploughs into the car and Vivienne is killed.
Alex climbs out of the wreck unharmed. Wretched with survivor guilt, he decides to visit Vivienne's mother in the absurdly-named town of Wawa. He is shocked to find Linda (Weaver) although informed of her daughter's death, seemingly unaffected. Very quickly though, Alex realizes that something is not "right" with Linda, and discovering that she is alone and that her parents cannot be reached for a day or two, he acquiesces to her insistence (motivated by her need to have someone to take out the garbage on Tuesday--Vivienne's job) to stay with her. It is only the next day that he is able to make better sense of her bizarre behaviour when he learns from a neighbour that Linda is autistic.
Alex's own story, his love affair with Maggie (Carrie-Ann Moss), Linda's neighbour, his growing closeness to the wonderful person who is Linda, and Linda herself, are the heart of the movie.
Angela Pell , the script writer, based her knowledge of autism on her own experiences with her seven-year-old son and Weaver researched her role among autistic women and sought advice from doctors and psychologists. Director, Marc Evans, has created a gem of a film with compassion and respect for the feelings of its characters and a light hand which leaves the outcomes of the interwoven stories undefined but full of hope and love. (Adele Riepe)