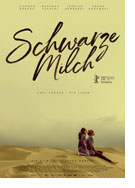 Schwarze Milch (Black Milk, Khar Suu)
Mongolia/Germany 2020
Opening 23 Jul 2020
Directed by: Uisenma Borchu
Writing credits: Uisenma Borchu
Principal actors: Gunsmaa Tsogzol, Uisenma Borchu, Franz Rogowski, Terbish Demberel, Borchu Bawaa
In the now German-based Mongolian director Uisenma Borchu's semi-autobiographical film, Borchu's screenplay is set in her homeland and she fills a leading role. The gist of Schwarze Milch is that twin sisters, separated when children, reunite as adults on the Mongolian steppes. One is in search of her roots, and both want to reconnect.
Wessi (Borchu) leaves Europe fed-up, and returns to the Gobi Desert where Ossi (Gunsmaa Tsogzol) lives with husband (Bud-Ochir Tegshee) amongst a close-knit nomadic tribe. After Ossi's warm greeting, stepfather (Borchu Bawaa) toasts Wessi's return as family, friends and neighbors celebrate, including the lone bachelor Terbish (Terbish Demberel). During the ensuing days, the sisters cautiously circle one another while rediscovering their commonalities, and differences. Some of Ossi's routines appall Wessi, just as for Ossi Wessi's promiscuousness goes against nature. Heedless of counsel, she ricochets down a snake hole and, bewilderingly, her options evaporate. Nevertheless, since they share a heart, in solidarity her twin shares the barren emptiness.
From its patchy opening sequence to its sketchy script to its shock-value scenes—sheep after a wolf attack, Schwarze Milch leaves contradictory impressions with a slipshod conclusion. The Wessi character's insensitivity toward sister, family, and traditions is off-putting, negative. Supposedly an affirmative communiqué re women having control of their bodies, conversely some scenes are puzzling, e.g., a long, tasteless and out-of-context shot of a stallion humping a horse. Perhaps Christine Schorr should have edited sans Borchu.
Lots of folks will be enthralled with Sven Zellner's awe-inspiring location cinematography, Daniel Murena's charming music, and the captivating Mongolian nomads (that try to not look at the camera). This alone makes the film worth seeing, so wait for the DVD/VoD release. (Marinell Haegelin)