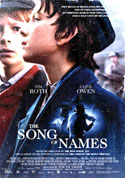 Opening 6 Aug 2020
Directed by: François Girard
Writing credits: Jeffrey Caine, Norman Lebrecht
Principal actors: Eddie Izzard, Gerran Howell, Stanley Townsend, Tim Roth, Catherine McCormack
French-Canadian director François Girard (1993's Thirty Two Short Films About Glenn Gould, 1998's The Red Violin, 2014's Boychoir) has crafted a profound, contemplatively composed period drama elegantly bound with exquisitely-executed, soul-lifting music. Based on cultural commentator / music critic Norman Lebrecht's 350-plus page same-titled book, Jeffrey Caine's screenplay seems sparse.
War-weary London, 1951: there is panic backstage as the house fills with concertgoers eager to hear the young-adult violin protégée play the Bruch Concerto and Beethoven. Martin (Gerran Howell) insists Dovid (Jonah Hauer-King) was fine at rehearsal, but his pragmatic father (Stanley Townsend)—Dovid's benefactor and the event's promoter and backer—heavy-heartedly accepts Dovid is a no-show. Flashback to London 1939: 9-year-old Dovidl (Luke Doyle)—a haughty, self-proclaimed genius Jewish kid from Poland, and 9-year-old Martin (Misha Handley)—the fastidiously reserved only-son of Gilbert and Enid (Amy Sloan) Simmonds, are brought together. Unbeknownst, Simmonds' magnanimity will change all their lives during a devastating historical period.
Thirty-five years on, while judging a music competition, Martin's (Tim Roth) déjà vu is triggered watching a competitor rosining his bow. It stirs up memories, a fragile hope, and fresh leads.
Martin's wife Helen (Catherine McCormack) dismisses "his new hobby." Nonetheless, Martin travels to Poland (Dovid's past) and a local (Magdalena Cielecka) provides new evidence and another lead. During the ensuing face-to-face with Dovid (Clive Owen), and (even) after hearing Dovid's revelations, Martin still needs recompense.
Narrated by Martin, Roth's normally robust approach to characters is replaced by mellow maturity edged with deeply felt anguish; Owens' restrained performance is steeped in guilt-ridden acceptance and restlessness. The casting is noteworthy all-around; Doyle is a violin prodigy, whereas Hauer-King and Owen worked hard learning how to imitate virtuosos. Howard Shore's score, including the film's title piece, is in itself a beautiful, absorbing character punctuated by Taiwanese-Australian violinist Ray Chen's memorable playing. Cinematographer David Franco's locations coverage (London, Warsaw, New York, Montreal, and the first-ever filming at the Treblinka memorial) is adroit that Michel Arcand neatly edited.
Considering Girard's rich, music-based resume, he seems to totter between the Holocaust-centric, and crushing English family saga. Both powerful narrative threads have quiet passages turn tacky, then illuminating and painful, then insightful and reformative. Standout sequences are: Dovid comparing Judaism to an easy-to-takeoff coat, the violin duel in a London bomb shelter, Martin at the death camp memorial, and the friends coming to terms. Beautifully presented, The Song of Names fundamental premise makes this song of affirmation worth seeing. (Marinell Haegelin)