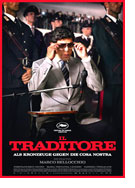 Il Traditore: Als Kronzeuge Gegen die Cosa Nostra (The Traitor)
Italy/France/Germany/Brazil 2019
Opening 13 Aug 2020
Directed by: Marco Bellocchio
Writing credits: Marco Bellocchio, Valia Santella, Ludovica Rampoldi, Francesco Piccolo, Francesco La Licata
Principal actors: Pierfrancesco Favino, Luigi Lo Cascio, Fausto Russo Alesi, Maria Fernanda Cândido, Fabrizio Ferracane
Tommaso Buscetta was born in the 1920s (different references say 1921 and also 1928) in Palermo, Italy, the youngest of 17 children. The film opens in September 1980 with Buscetta in the middle of a huge family party, accompanied by his third wife Christina (Maria Fernanda Candido), many relatives and his children (he eventually has eight, including grown sons from two prior marriages). He has climbed from destitution to success by working for the Mafia, managing the sale of drugs to Sicily. In 1980 he and his family move to Rio de Janeiro, Brazil, where he continues in this line of work. Success depends on complete loyalty; resistance results in multiple assassinations – all just part of a routine day. In 1984 he is arrested and brought back to Italy, where he agrees to share his information with the police. He is perhaps willing to cooperate because he disagrees with a new section of the Mafia called Corleonesi, while he is a dedicated member of Cosa Nostra. Also, his two oldest sons have disappeared, perhaps at the hands of the enemy. He shares names such as Totò Riina (Nicola Calì) and Pippo Calò (Fabrizio Ferracane) with Judge Giovanni Falcone (Fausto Russo Alesi). Is he therefore a traitor or just "pentito" (repentant)?
Il Traditore is based on the true life of Tommaso Buscetta. The film is gripping through all of the 153 minutes, partly due to the excellent presentation of Buscetta by Pierfrancesco Favino, and also due to the stirring music which always plays at the right time in the right mood (something which is not a given in all films and which led to winning Best Music at the 2019 European Film Contest. Marco Bellocchio von Best Director in the same contest.) The film continues with facts about Buscetta after his court experience, ending with over 365 arrests and him resettling in the USA. Still one leaves the cinema with an urge to research even more– an activity definitely worth the effort, as I experienced. Interesting is that, although this is all about the Mafia and drugs, we never see actual selling of any drugs. Some filming locations are Palermo, Rome, Rio de Janeiro, London, and Cologne. This is certainly a film for anyone interested in action, as well as Italian Mafia history, which continues today. (Becky Tan)


Second Opinion

Il Traditore is the true story of Tommaso Buscetta who was a member of the Sicilian mafia during the 1970's-80's. He is an intelligent and complicated man who stands by his own principals, even if it means going against those more powerful than himself. A war is raging between the rival mafia bosses over the heroin trade and Tommaso goes to Brazil for his own safety. However, leaving the mafia is not so easy and he knows it is only a matter of time before he will be killed. But before the mafia can get him the Italian police bring him back to Italy and he decides to make a deal with the judge Giovanni Falcone. He becomes the first mafia informant in Sicily to help bring down the Cosa Nostra.
Treason is a big theme in the movie and the question of whether or not someone can actually change. The film is in Italian with German subtitles and lasts two and a half hours. (Alana Leichert)