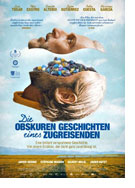 Die Obskuren Geschichten eines Zugreisenden (Advantages of Travelling by Train, Ventajas de viajar en tren)
Spain/France 2019
Opening 20 Aug 2020
Directed by: Aritz Moreno
Writing credits: Javier Gullón, Antonio Orejudo Utrilla
Principal actors: Luis Tosar, Pilar Castro, Ernesto Alterio, Quim Gutiérrez, Belén Cuesta
Absurd, surreal, and completely absorbing is rare praise for a debut feature film director, particularly considering its dank darkness, surreal ingenuity and how it quivers with the blackest-of-black humor. Except that Aritz Moreno's inspiration came from the prestigious Spanish author Antonio Orejudo Utrilla's same-titled, award-winning book. The book's quixotic madness, its style described as 'cervantina,' teeter-totters between reality and fiction. Finding its counterpart in the film, imagine then seeing a Salvador Dali painting come to life.
Bookended by train journeys, the film opens with Helga Pato (Pilar Castro) returning to Madrid from the clinic where her husband is committed. Another traveler, psychiatrist Ángel Sanagustín (Ernesto Alterio), initiates a conversation to pass time. Touting unconventional treatments, he regales the young literary editor with the saga of his most difficult, dangerous, paranoid patient, namely Martín Urales de Úbeda (Luis Tosar).
Stories within stories intersect, bisect, and then reconnect. Martin's mania spins out: sister Amelia Urales de Úbeda (Belén Cuesta) tells about a Kosovo doctor's (Stéphanie Magnin Vella) anguished account concerning the wealthy Cristóbal (Javier Godino); the preternaturally doomed young lovers (Macarena García, Javier Botet) tale vies with dog-loving Emilio's (Quim Gutiérrez) romp into madness; and then, there is Martin's disquieting preoccupation with all things garbage. Sanagustín leaves the train forgetting his folder of patients' testimonies and, Helga cannot resist temptation. Her fascination with the material breeds a need to publish it, thus she sets a course to find Sanagustín.
The cast performs brilliantly; Castro and Tosar obviously carefully planned the variations on their characters. Cinematographer Javi Agirre Erauso's ingenious framing and coloring accentuates each twisted story that Virginie Alba's costume designs compliment by taking on the mysterious, sinisterly yet quirky palette. Javier Gullón's screenplay is noteworthy. Raúl López remarkably and commendably edits the film's delightful incoherency to a logical, unified ending with Cristobal Tapia de Veer's music reflecting its capricious temperament.
Moreno disregards political correctness making this, perhaps, somewhat offensively off-key. Nonetheless, strong-hearted viewers will embrace the speed and intricacy with which stories veer, plunging audiences deeper into bizarre scenarios that develop into disjointed situations oozing with allegorical connotations and metaphorical implications. Always traveling full-throttle toward a destination requires we just relax and enjoy the Advantages of Traveling by Train. Quite understandably, many may want to hop onboard for a return trip. (Marinell Haegelin)