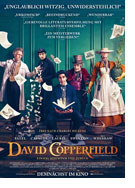 David Copperfield - Einmal Reichtum und zurück (The Personal History of David Copperfield)
U.K./U.S.A. 2019
Opening 24 Sep 2020
Directed by: Armando Iannucci
Writing credits: Simon Blackwell, Charles Dickens, Armando Iannucci
Principal actors: Dev Patel, Hugh Laurie, Tilda Swinton, Ben Whishaw, Nikki Amuka-Bird
Undoubtedly Armando Iannucci's interpretation is the zaniest, sassiest, and most creatively original yet of Charles Dickens' beloved eighth novel—full title—The Personal History, Adventures, Experience and Observation of David Copperfield the Younger of Blunderstone Rookery. Iannucci fuses love of comedy—its exacting sense of timing, black comedy (The Death of Stalin, his 2017 biting satirical depiction of Cold War Russia's top echelon), political satire (creator of HBO's Veep), and silliness. Dickens, a prolific writer renowned for integrating elements of Victorian Era's fixation on social status, and its lifestyle's direr aspects that needed emphasizing and-or change, utilized artistic tools, e.g., satire throughout Copperfield, to depict targeted disparities. Iannucci and longtime collaborator Simon Blackwell's modern tribute turns 1850 Victorian England's gloomy, ponderous melodrama on its head by re-interpreting Copperfield in bright colors, humanistic optimism and cheeky spins on dialogue.
The Personal History of David Copperfield, purportedly autobiographical and oft described as Dickens' masterpiece is also his personal favorite; it centers on and chases the eponymous character's rollercoaster journey through life. The adult David (Dev Patel), while making a presentation, highlights his ride to date:
"Coasting:" his birth (we all watch), and then idyllic Suffolk childhood with widowed mother Clara and housekeeper (Daisy May Cooper).
"Drop:" a wickedly cruel stepfather, Murdstone (Darren Boyd) and sinister, spinster sister (Gwendoline Christie).
"Ups:" David's Yarmouth interlude at a beached barge where he forges lifelong friendships (Paul Whitehouse, Aimée Kelly, Anthony Welsh), then boarding school and friendship with Steerforth (Aneurin Barnard).
"Downs:" his mother's death; Murdstone's pronouncement, "What lies before you, boy, is a fight with the world. The sooner it begins the better;" David's removal to impoverished factory work in London.
"Tight turns:" London landlord Micawber (Peter Capaldi), generous, poor, yet constantly speculating, wife (Bronagh Gallagher) and brood proffer comfort; escape to eccentric, big-hearted great-aunt Betsey's where mad Mr. Dick (Tilda Swinton and Hugh Laurie's portrayals are memorable) also resides. Fortune (finally) grins.
"Steep climb:" David hones talents—mimicry, wordsmith banter—while schooled in Canterbury; accommodation with Lawyer Wickfield (Benedict Wong) and an evermore friendship with daughter Agnes (Rosalind Eleazar); David obliges first love Dora Spenlow's (Morfydd Clark and as Clara) idiosyncrasies.
"Slippery plunge:" Wickfield's clerk Uriah Heep (Ben Whishaw), a sycophantic and devious "vulture" if ever there was, becomes David's nemesis.
Till Kismet, and a dear friend bring the good gentleman, and ride, to this present prosperity.
Breathing life into the classic are richly embodied characterizations from Iannucci's handpicked cast, and Cristina Casali's production design, (supervisor) Nick Dent's art direction, Suzie Harman and Robert Worley's costume design, and Charlotte Dirickx's set decoration. Christopher Willis' music matches cinematographer Zac Nicholson's mood-setting tonalities, just as Mick Audsley and Peter Lambert's brisk editing misses nothing jiggling joyous, decorous, cheerless, and warmhearted sequences in this outrageously timeless cinematic version. Take to heart adult David's words of advice, "Don't worry, you'll make it through and have quite the ride along the way." (Marinell Haegelin)