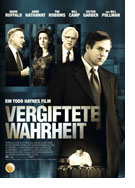 Vergiftete Wahrheit (Dark Waters)
U.K. 2019
Opening 8 Oct 2020
Directed by: Todd Haynes
Writing credits: Nathaniel Rich, Mario Correa, Matthew Michael Carnahan
Principal actors: Mark Ruffalo, Anne Hathaway, Tim Robbins, Bill Pullman, Bill Camp
In 1998 farmer Wilbur Tennant (Bill Camp), frustrated at having doors slammed in his face, drives 130 miles (209 km) from Parkersburg, West Virginia to Cincinnati, Ohio with his brother (Jim Azelvandre) to force open a door. They know this boy's grandma; now an environmental attorney at a prestigious law firm, they wait until Rob Bilott (Mark Ruffalo) sees them. Will wants Rob to look into his cattle's unexplained deaths that he has connected to the giant chemical manufacturer DuPont. When Rob—a corporate defense lawyer—hesitates, Will thrusts a cardboard box of DVD cassettes in his arms and storms out.
Thus begins Dark Waters that is based on, unfortunately, irrefutable facts. Most unsettling is DuPont's unbridled malfeasance and, that the chemicals (PFOA [C-8], part of the PFAS family) are still used, hence still affecting the worldwide community. This timely corporate cover-up thriller's relevancy is universally valuable.Director Tod Haynes concentrates on the salient points along Rob Bilott's long journey following the farmers' visit. Haynes expressively and cohesively balances how Bilott's—brilliantly portrayed by Rufalo—duties to his family and clients are tested during the ensuing years. Mario Correa and Matthew Michael Carnahan developed details from Nathaniel Rich's 2016 New York Times Magazine article, Sharon Lerner's series in The Intercept, a 2015 article by Mariah Blake, and Bilott's book Exposure into a deliberate, compelling screenplay. For example, when Rob explains to wife Sarah (Anne Hathaway) what C-8 is and its wide-ranging, deadly effects and DuPont's culpability, Affonso Gonçalves' flawless editing structured a gripping, searing sequence—very enlightening for audience understanding—just one of many sequences. Production values are impeccable: Edward Lachman/cinematography, Marcelo Zarvos/music, Hannah Beachler/production design, et al.
Mark Ruffalo's facial and vocal nuances depicts how Bilott's inner turmoil increases to outrage as he uncovers further subterfuge. The stellar cast includes: Hathaway's well-gauged emotive range as Billot's wife, and Camp as the perceptive farmer with canny foresight. Tim Robbins is great as Tom Terp, managing partner at Taft Stettinius & Hollister LLP whose moral courage green-lights Bilott's crusade; Victor Garber as Phil Donnelly, DuPont's icy attorney; Bill Pullman as the sharp West Virginian personal injury lawyer guiding Bilott; Mare Winningham and Richard Hagerman as the dauntless Kiger plaintiffs are but a few, plus hometown cast members are shown prior to end credits.
Vergiftete Wahrheit's deep dive into corporate cover-ups penetrates a public sense of trust. The villain PFOA (C-8) is one of many toxic man-made chemicals called per- and polyfluoroalkyl substances that contain carbon-fluorine chemical bonds. Developed during wartime and repurposed for profits, PFOA is a component in manufacturing Teflon—used in consumer and industrial production. PFOA and other PFAS are unregulated by the federal government, albeit contamination to the environment and living creatures health systems (globally) is detrimental. Does its resilience outweigh its misuse? A commonality among Americans is PFAS, ironically, since 99% have it in their blood.
Paradoxically, people are lackadaisical about corporate polluters continuing horrific practices, while being culturally tolerant—look to Flint, Michigan, Hinkley, California, and Mississippi oil related environmental destruction, etcetera. In Dark Waters, we feel the community's despair and isolation, then betrayal when realization sets in. Billot clarifies, "[T]he system's rigged … we protect us."
Even now, 27-years on Bilott still fights corporate polluters. Community action and activism is imperative for fighting against the broader implications from contaminates. As this global COVID-19 pandemic demonstrates, either we take care of Mother Nature or she will take care of herself. (Marinell Haegelin)