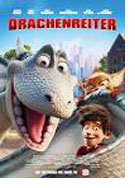 Drachenreiter (Dragon Rider)
Germany 2020
Opening 15 Oct 2020
Directed by: Tomer Eshed
Writing credits: Neil Ennever, Johnny Smith, Cornelia Funke
Principal actors: Felicity Jones, Freddie Highmore, Thomas Brodie-Sangster, Patrick Stewart, Meera Syal
Once upon a time (several hundred years ago), dragons and humans (both all shapes, sizes and colors) lived together on earth in harmony. Until, as can happen when things are too peaceful, an upheaval forced dragons to flee and take refuge. Israeli director Tomer Eshed depicts the introductory segment of this lustig tale using the artistic style of Indian shadow-puppetry, before shifting into CGI / clay modeling animation and the present-day dragons lot. John R. Smith's screenplay is based on Cornelia Funke's 1998 same-titled, and wildly popular book for adolescents.
With humans impinging on their valley, dragons are threatened. Young Firedrake, the only silver dragon, seeks out the elder Slatebeard, and is counseled about a legendary dragon safe-haven hidden in the Himalayas—the Rim of Heaven, and warning—avoid the "Golden One" at all costs. Then, Firedrake and best friend Sorrel, a forest brownie, take off. Their first stop, and first human encounter is Ben, a 14-year-old orphan; they unwittingly team up. Sorrel and Ben's arguing land them in dwarf-inhabited mountains where Gravelbeard alerts Nettlebrand, the golden monster living nearby with his Homunculus servant Twigleg. Nettlebrand's only mission is to kill and eat every last dragon, therefore news of the trio sends him in hot pursuit. There is a fateful meeting with Professor Greenbloom in Egypt, whose advice sends the searchers after a thousand eyed Djinn who can see everything. With the maniacal monster on Firedrake's tail, they race across oceans, through Pakistan and high into the Himalayas on an eye-opening, life-altering adventure.
This charming, engrossing fantasy animation is one of Europe's biggest animation projects recently, and it shows. Initially released in English, the cast unique voices (Felicity Jones, Thomas Brodie-Sangster, Freddie Highmore, Meera Syal, Sanjeev Bhaskar and Nonso Anozie) are well matched by the German cast (Dagi Bee, Julien Bam, Mike Singer, Rick Kavanian, Axel Stein and Kaya Yanar) that brings the wonderful, lovingly detailed animated characters to life. Olaf Aue's cinematography, Stefan Maria Schneider's music, Alexander Pohl's production design, and the work of countless artists turn out an impressive film.
There is timelessness to Drachenreiter and its message reminding audiences not all people are bad, plus the importance of trusting yourself. Equally delightful for preteens and adults, as the professor says, "accept the past and blink forward." (Marinell Haegelin)