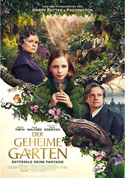 Opening 15 Oct 2020
Directed by: Marc Munden
Writing credits: Jack Thorne, Frances Hodgson Burnett
Principal actors: Dixie Egerickx, Richard Hansell, David Verrey, Tommy Gene Surridge, Julie Walters
Director Marc Munden relates the secrets of Frances Hodgson Burnett's 1911 magical and much-loved same-titled children's classic, although screenwriter Jack Thorne adds some teeny-weeny detours. Conversely, just as every reader has different imaginings of Der Geheime Garten, so are its many incarnations in television, stage, and film dissimilar. By the end of this transmogrifying journey, audiences will have learned much from the young.
Packed off to Uncle Archibald Craven (Colin Firth) in Yorkshire, England after her parents' die during a cholera epidemic in India, the precociously disagreeable and spoiled Mary Lennox's (Dixie Egerickx) transition is rough. The straight-laced head housekeeper, Mrs. Medlock (Julie Walters), is confounded by Mary's reticence while traveling to Craven's estate amongst bogs and moors; later, Mary retorts pugnaciously to her many house-rules. The next morning Mary's behavior causes chambermaid Martha (Isis Davis) to comment, "And here I was excited to have a young one in the house." Unbeknownst, Mary is terribly lonely. Forced to entertain herself, Mary roams freely in the great-out-of-doors; eventually meeting Uncle, she convinces the reserved widower that that be her "home schooling." Whilst exploring, Mary makes friends with a robin, and Hector (Fozzie) that lead her to a magical place, and then to an acquaintanceship with oddly knowledgeable Dickon (Amir Wilson). Concurrently, the inquisitive 10-year-old skirts passageways in Misselthwaite Manor searching for the source of the nocturnal wailing. Thus, Mary discovers Colin (Edan Hayhurst), a "secret" cousin purportedly crippled. Both are overindulged, yet that their mothers (Maeve Dermody, Jemma Powell) were twins creates a tacit tolerance. Besides, Mary's secret is too good not to share.
To demonstrate the book's vivaciousness, three-time BAFTA winner Munden engaged a team of computer magicians to create visual effects (VFX) and special effects (SFX) and then integrate with live-action footage using computer-generated imagery (CGI). Cinematographer Lol Crawley accentuates momentum using subtle atmospheric tonality changes that Luke Dunkley edits with finesse and forethought, and that Dario Marianelli's music lightly, sensibly accompanies.
Pray tell, how is it that adults are taught by children? This idyllic story about the art of self-healing has a message for every age. Best discover it yourselves by taking a stroll through The Secret Garden that is nestled in a cinema near you. (Marinell Haegelin)