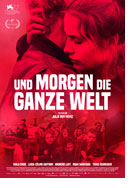 Und morgen die ganze Welt (And Tomorrow the Entire World)
Germany/France 2020
Opening 29 Oct 2020
Directed by: Julia von Heinz
Writing credits: John Quester, Julia von Heinz
Principal actors: Mala Emde, Noah Saavedra, Tonio Schneider, Andreas Lust
Director Julia von Heinz uses political extremes as the backdrop for a, sort of, coming-of-age story. Batte (Luisa-Céline Gaffron) takes close friend Luisa (Mala Emde) along to a commune of like-minded Antifa activists; the group's main pastime/pursuit is preparing for and demonstrating against the neo-Nazi movement. Louisa passes inspection, and then proves herself first time out; her involvement escalates. Particularly when in cahoots with Alfa (Noah Saavedra) and Lenor (Tonio Schneider). Alfa and Luisa's friendship thickens. After an especially bad experience, the three get help from the guy's friend Dietmar (Andreas Lust), whose understanding is understated. Questions about the validity of violence within the group are tested when they set their sights on a major nasty radical group. Subsequently, there is a banger of a resolution.
The core of the story is supposedly how Luisa's involvement in activism affects this nice, studious 20-year old. A few subtle precursors are given—clues you could say, however the screenplay (Julia von Heinz, John Quester) is too weak and unfocused for the 111 minutes runtime. Maybe as a short film it would have worked. Splitting the story between an important stage in a 20-years-old's life, and political militancy stances is muddling. Besides, the stories have been told too often, and better. In spite of everything, the acting is good, particularly Emde, Schneider, and Lust, as is camera (Daniela Knapp) and sound (Bettina Bertók, and Valentin Finke). (Marinell Haegelin)


Second Opinion

Luisa (Mala Emda) is in her first semester, studying law at the university. The professor teaches Basic Constitutional Law (Grundgesetz) in Germany. Parallel she meets (and eventually moves into a shared apartment with), other young people. Their goal is to demonstrate against Fascists. She hangs out with Alfa (Noah Saavedra) and Lenor (Tonio Schneider), who says, "We are different because nobody gets hurt." So far, perhaps. They locate a mysterious Manfred, call his number and say that his house will be searched by the police. Soon strangers go into Manfred's house and pick up boxes which are brought to another house. Luisa and her friends steal the boxes and hide them. One box holds highly explosive material. They also visit Dietmar (Andreas Lust) who is an older, former demonstrator. He reminisces about his past activities.
The story circles around Luisa. She hunts rabbits and carries her rifle across an open field. She sleeps with Lenor; their friends are arrested. She talks with her mother Cordula (Victoria Trauttmansdorff, one of my favorite German actresses, here in a five-minute role). This all made small impression on me, although the film showed in competition at this year's 77th Venice film festival. Perhaps the timing is unfortunate. The title translates to "And Tomorrow: The Entire World." But the entire world is already in a state of demonstrations and a film scene of 20 students demolishing cars in a parking lot is nothing compared to the massive demonstrations we experience today in 2020. We have thousands on the streets for Black Lives Matter, pro-Trump voters against "socialism," people for and against wearing masks, liberals against the present US government, Fridays for Future, and so on. We know what demonstrations are and it's definitely not a small group pushing up against others in a back courtyard. Okay, what about the hidden explosives? Surely, they come to life. Here, actress Mala Emde does her best and we wish her more ambitious roles in the future, which will be worthy of her talent. In the meantime, let's go demonstrate. (Becky Tan)