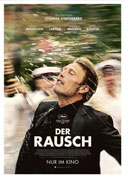 Opening 25 Mar 2021
Directed by: Thomas Vinterberg
Writing credits: Thomas Vinterberg, Tobias Lindholm
Principal actors: Mads Mikkelsen, Thomas Bo Larsen, Magnus Millang, Lars Ranthe, Maria Bonnevie
The Danish Dream Team is back. This moving tragicomedy about a high-proof self-experiment reunites director Thomas Vinterberg (The Celebration, The Hunt) with high-profile actor Mads Mikkelsen, who manages to be convincing in everything from Bond and Star Wars blockbusters to quiet costume dramas. Another Round nearly premiered in Cannes before the festival was cancelled due to the coronavirus; instead, it went on to Toronto, London and San Sebastián. Winner of the 2020 European Film Prize, the film has been submitted by Denmark to be considered for an Academy Award. It features a superb ensemble cast.
Mikkelsen plays Martin, a high school history teacher who lacks fulfillment in his life. Though once a star teacher and passionate about his subject, in middle age he's fallen into a permanent funk. Martin often looks like he's ready to cry. He's the kind of guy who tells people things that they forget. His colorless personality barely makes an impression on the teenagers in his classroom, who run roughshod over him. To make matters worse, his marriage is crumbling: His long-suffering wife Trine (Maria Bonnevie) is as bored with him as he is with himself.
Things start shaking up at a booze-soaked birthday dinner that Martin attends with his three closest male colleagues. Psychologist Nikolaj, the birthday boy, tells the guys about a Norwegian psychiatrist's theory that humans are born with too little alcohol in their blood. Latching on to this semi-scientific idea (and hoping to put some zip back into their humdrum lives), they propose to drink consistently throughout every day. They call this an experiment in maintaining the "proper" blood-alcohol level of 0.05%. Boldly declaring that to dare nothing means to lose themselves, the men decide to go for it: They adopt Ernest Hemingway and Winston Churchill as their boozy yet highly effective role models.
Martin, who has reluctantly gone along with his buddies, becomes aware of a remarkable improvement in himself. The constant level of alcohol in his blood allows him to be more present; more musical; more open; more courageous. His wife and students are delighted with his renewed vigor: He incorporates funny stories about drunken world leaders into his lesson plans. Nikolaj documents the group's alcohol self-administration in a psychological study: after all, they're academics. As the experiment moves from its initial test phase to phases two and three – individualized drinking, then drinking to the max – things predictably take a sober turn.
Nikolaj's final observation notes that "due to unforeseeable negative social consequences, the experiment is coming to an end." Despite – or perhaps because of – its unorthodox subject, the film manages to be both boisterous and sobering, a love poem to the world. Life is an endless cycle of beginnings and endings, it tells us. Time for another round. (Brenda Benthien)