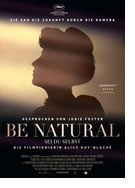 Be Natural - Sei Du selbst (Be Natural: The Untold Story of Alice Guy-Blaché)
U.S.A. 2019
Opening 5 Aug 2021
Directed by: Pamela B. Green
Writing credits: Pamela B. Green, Joan Simon

"How could she get forgotten?" inquires director Pamala B. Green of a cross-section of industry contemporaries—filmmakers, historians, archivists, researchers, preservationists—in this fascinant documentaire. Alice Guy-Blaché's groundbreaking contributions helped mold cinematic art form in directing, screenwriting, and producing, and while creating genres in over 1,000 films that lasted from one-minute to thirty, plus 22 feature-length. Following fantastic opening credits, Green establishes in the first 6-minutes the film's premise, plus an overview of Alice's life.
In 1895, the Lumière brothers' projected short film showing workers leaving their factory, La Sortie de l'usine Lumière à Lyon, stunned audiences. Competition was fierce among film-projecting camera companies (the Lumière's, Georges Méliès, Thomas Edison). Alice Guy, Léon Gaumont's stenographer-typist at Gaumont et Cie, got permission to make a storytelling film projection, "… don't let the mail suffer." Thus, narrative filmmaking began with Alice's La Fée aux Choux (The Cabbage Fairy, 1896). As Gaumont's head of production between 1896 and 1907, Alice Guy systematically developed narrative filmmaking; since no "rules" existed, she created many techniques for camerawork, audio, and special effects; she filmed on location, and more. While at Gaumont, she hired and trained directors/writers, art director and set designer; she created the "Gaumont House Style." During this period, Alice's most notable film was Le Vie du Christ (The Life of Christ, 1906), a thirty-minute big-budget extravaganza. "It was my fate, if you will."
Following their 1907 marriage, whereby Alice resigned as Gaumont's production head, Herbert Blaché-Bolton was sent to Flushing, Queens, New York in 1908, where daughter Simone was born. In 1910, Alice started Solax Studios (another of her many "firsts"); while pregnant with Reginald, in 1912 the shrewd businesswoman built a studio in Fort Lee, New Jersey, a ferry ride away across the Hudson River, the then filmmaking capital before studios migrated to California (thanks to Thomas Edison and George Eastman's "The Trust"). Guy-Blaché held production meetings, promoted collaborations with fellow creatives, and hired/trained America's first woman director. "Be Natural" was an oft-remarked-on prominent sign in Alice's studio. After divorcing in 1922, Alice returned to France with the children; she never made another film. The gutsy Alice spent years trying to recover her films, and, set the record straight.
Green's editing is spot on; archival footage includes interviews with Alice (1957 and 1963-4), with Simone Blaché, and present-day interviews. Animation helps bridge continents in well-told, well-researched chronology that Peter G. Adams' music prudently accompanies. The amazing amount of information is overwhelming, particularly when Green speeds-up toward the end; missing is a Guy-Blaché film rather than interviews by Alice's cinematographer's descendants. Jody Foster's voiceover is nicely modulated and paced.
A visionary driven by curiosity, imagination, and boundless energy, Alice Guy-Blaché dauntlessly pushed boundaries. Many will find the multifaceted Be Natural: The Untold Story of Alice Guy-Blaché appealing. Green's documentary has finally, securely established Alice's rightful place in (cinematic) history. Imagine audiences' reactions, and its boost to the struggling, emerging industry, had they seen Alice's fictional storytelling, instead of practical demonstrations. And, at the very end Green tucked a delightful treat à la Alice. (Marinell Haegelin)