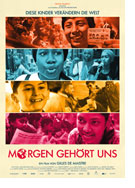 Morgen gehört uns (Demain est à nous)
France 2019
Opening 15 Jul 2021
Directed by: Gilles de Maistre
Writing credits: Prune de Maistre, Camille Bourdeau, Sarah Ceyte

Although its approach is Disney-esque, the core of French director Gilles de Maistre's documentary is compelling, and fodder for thought. Maistre focused on six countries, and seven/eight adolescents: Peru's José Adolfo, 13; France's Arthur, 10; India's Heena, 11; Guinea's Aïssatou, 12; Bolivia's Kevin, Jocelyn and Peter, 10,12, and 13, and Khole, USA.
They are united in their fight for protecting the environment, and, they passionately fight against homelessness; child brides and child slavery; child labor; school dropouts, and kids rights. Undeniably they hear a litany of reasons why they cannot succeed, e.g., too young, never been done before, etcetera, but as counterbalance, and more important, is the encouragement they receive from family, and friends. Moreover, the heartfelt gratitude from those they help. Who other than a kid to conceive an Eco-bank, for kids, where collecting 5-kilos (11 pounds) of plastics/paper for recycling opens an account? One with vision, persistence, courage and, naturally, strong family support. Of the five finalists' concepts, the Eco-bank idea won the 2018 Children's Climate Prize in Stockholm, Sweden, and originated from one of our protagonists.
It is amazing to watch their energy at work: Aïssatou talking to girls sold into marriage in Ghana (albeit forbidden by law), whereas in India Heena questions a father about his son not attending school; both stand tall in markets decrying adult's actions, even as adults' around them express indignation. Peter and his group organizing impressive marches is inspirational to observe. In California, Khloe takes helping the homeless to a new level that is well-worth emulating worldwide.
What is lost in this documentary, however, is a sense of understanding/continuity that rests sorely with the editor. Michèle Hollander's cacophony style is chaotic and hard to follow, e.g., numerous tweens are inserted in-between the central characters with no lower third identification. And, Marc Demais' music is rather heavy-handed. Still, it is encouraging for people of all ages to see how these young grass-root pro-action activists democratically tackle (global) issues and crises, while seeking creative solutions. Paradoxically, this generation of revolutionaries' is hard for adults to ignore, because their voices, and messages, are crystal-clear. (Marinell Haegelin)


Second Opinion

The title translates to "Tomorrow belongs to us" and in this case "us" are children, between the ages of 10 and 13. Jose Adolfo founded a bank for children in Peru when he was only 7. Children collect paper and plastic and sell it to his group, which puts their money into a bank account, to which they have access. Aïssatou from Guinea works to prevent young girls being forced into marriage and helps those who are married move into a safe home. Arthur from France paints pictures and sells them to buy food, clothing and blankets for homeless people sleeping on the street. Heena writes for a magazine in India called Balaknama, which means "The Voice of the Children." It aspires to enable street-working children to attend school, learn to read and write. Jocelyn, Kevin, and Peter support children, who are working in mines in Bolivia. If this cannot be prevented due to extreme poverty, they should at least expect better working conditions and secure wages. Khloe helps in Los Angeles. The film opens with young Jose Adolfo on his way to Stockholm where he is competing for the Swedish Children's Climate Prize (2018).
Director Gilles de Maistre has been photographing children worldwide in horrible environments of poverty, hunger, slavery, imprisonment, and street life for 30 years. He was most impressed by children who, although underprivileged themselves, help others. All of the children in this film do something concrete, something practical. He said, these children don't say, "I'll solve the problem of starvation." Instead they go out and organize food for 10 people in their neighborhood. De Maistre said, "For me they have an aura of genius, mercy, and strength." Their parents, often illiterate, unschooled, are often quite surprised to have such extraordinary, dedicated youngsters. After accepting this reality, they support their offspring's endeavors as much as possible. Towards the end of the film Greta Thunberg appears. According to Gilles de Maistre, Greta Thunberg says, "'The world is in danger. The planet is in danger. Do something." She tries to mobilize but makes no attempt to solve the problem herself. The children in the film DO something, even if it just benefits three people. Definitely see the film, which will probably be shown, not only in cinemas, but in schools or organized groups. You will leave the cinema impressed, and asking yourself, "What concrete thing have I done to help someone?" Perhaps there is hope for the future if we all follow this example. (Becky Tan)