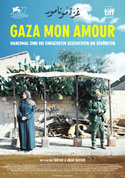 Opening 22 Jul 2021
Directed by: Arab Nasser, Tarzan Nasser
Writing credits: Arab Nasser, Tarzan Nasser
Principal actors: Salim Dau, Hiam Abbass, Maisa Abd Elhadi, George Iskandar, Manal Awad
Palestinian twins Tarzan Nasser and Arab Nasser's second film (Dégradé, 2015) is again set in Gaza with a fetching pair of unlikely protagonists: Salim Daw, as the sixty-year-old bachelor Issa and Hiam Abbass, as widow Siham. The humble fisherman has a limited amount of sea to trawl through nightly, while almost daily his well-meaning sister (Ruala Adb Elhadi) continually tries to match-make. Unbeknownst, Issa has carried a torch for another for years. Whereas the seamstress Siham works in a shop, sometimes with her touchy daughter (Maisa Abd Elhadi) helping, and is a kind soul. One ordinary night Issa's especially heavy haul lands an ancient metal statue of the Greek god Apollo, with an engorged phallic. He smuggles it home and hides it, daydreaming about its significance; it just might bring him luck. It certainly emboldens him in his pursuit of Siham. Until the protruding penis, accidentally disembodied, subsequently gets the police involved. Thereafter, destiny takes over.
The directors' endeavor to mix lighthearted, middle-aged rom-com with a fuzzily presented political viewpoint fizzles into a damp squid. Choosing to use a swollen penis—long enough to hang a birdcage on—as a symbol for anything in the age of #MeToo stretches the imagination, and good judgment. They also assumed everyone knows the Gaza political circumstances, i.e., Israeli occupied Palestinian territory ruled by the militant group Hamas. Cinematographer Christophe Graillot met the location challenges, with an original score by Andre Matthias. Even at 84-minutes (Véronique Lange edits), the narrative's mishmash squanders the brilliantly performed, and heartwarming Issa and Siham twilight romance, for tediously tasteless poppycock. (Marinell Haegelin)


Second Opinion

Sixty-year-old Issa (Salim Dau) fishes in a sea near the border to Israel. He works during the night so that the fish can't see his net; besides, he has no official permit. Although a long-time bachelor, Issa is now deeply in love with Siham (Hiam Abbass) and spends hours practicing approaches to draw her attention, such as taking his trousers in for adjustment, since widowed Siham works as seamstress and sales lady in a clothing store. She lives with her divorced daughter. Issa's sister is not enthused about Siham as a potential sister-in-law, after all a divorced daughter is not honorable. She takes the initiative and introduces several potential brides into Issa's house. Things change when Issa heaves a heavy net into his boat. It contains a huge, bronze statue of a naked man with a prominent penis – the God Apollo. Officials learn of this catch, search Issa's house, and bring him and the statue into the police station, where Issa expects a reward, but ends up staying nights in jail with other prisoners.
This is the second film by twins Arab and Tarzan Nasser from Palestine. Here, as in real life, residents are faced with constant explosions from Israeli bombs. They suffer poverty, slowly counting out their shekels and coping with the loss of electricity. Still, they are human beings, and, in spite of hard situations, they interact with feelings of love. They fight for their rights, share opinions, argue over conflicts, and solve daily problems. They reflect the current problems of Gaza's residents today: political, financial, and social, which, "one can only endure through dreams." The directors, Arab and Tarzan Nasser, said that in 2014 a fisherman really did pull a statue of Apollo out of the water, although today, no one knows if it still exists or where it is.
Gaza Mon Amour is perfect for viewers interested in talented actors filmed in a different society. Although, are we really so "different?" The photography and the music are excellent. The penis plays a role of its own; maybe it could win an Oscar!! The Filmförderung Hamburg-Schleswig-Holstein (FFHSH) contributed financially. Gaza Mon Amour showed successfully at film festivals in Venice and Toronto, as well as in Hamburg. (Becky Tan)