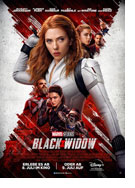 Opening 8 Jul 2021
Directed by: Cate Shortland
Writing credits: Jac Schaeffer, Ned Benson, Eric Pearson
Principal actors: Scarlett Johansson, Florence Pugh, David Harbour, Rachel Weisz, Ryan Kiera Armstrong
It's Ohio, 1995, and the kids, Natasha (Ever Anderson) and Yelena (Violet McGraw) are happily playing outside. At dinner, father Alexei (David Harbour) rushes in to announce to his wife Melina (Rachel Weisz) that they must pack up and leave immediately (to the tune of "Bye, Bye Miss American Pie"). After a mad escape from police attacks as Alexei clings to the wing of the plane wing at take-off, they arrive "home." Now, 21 years later, Natasha Romanoff (Scarlett Johansson) leaves the USA for Norway and then Morocco where she struggles against another young woman, who turns out to be her long-lost sister Yelena (Florence Pugh). Then it's back to Norway. Slowly we learn that both girls were part of Dreykov's (Ray Winstone) network of Black Widows and his Red Room. They seek revenge against him. As the story develops, Alexei, a.k.a. the Red Guardian, and Melina and the girls are reunited, although, surprise: they never were related as a family. Is the real traitor Melina?
Black Widow belongs to the Avengers series and is the 24th film to originate from Marvel comics (written by Stan Lee, Don Heck, and Don Rico). After appearing as the Black Widow in seven of the filmed Avengers stories, Scarlet Johannsen's role finally comes forth as the lead character. Filmed in England, Hungary, Morocco, USA, Norway, and the Bahamas, the photography is breath-taking. Avengers fans should cope well with the storyline, as well as recognize various characters such as Captain America. Newcomers can still enjoy police, military, stabbings, shootings, a trailer in the woods, explosions in a car and an apartment, crashing on a bridge, a robot, a landslide, a motorcycle race, and much more, without a clue about where this story is going. Black Widow is definitely worth seeing, preferably in a big-screen cinema, where one can sink into all of the continuous action pushed upwards by powerful music, non-stop. It's the action that counts. Sit through the huge list of credits for a last scene to gain a tip towards a possible next, upcoming Avengers/Marvel Comic movie. (Becky Tan)


Second Opinion

Marvel Studios truly outdid themselves with this action packed spy thriller featuring the Avengers member Natasha Romanoff (Scarlett Johansson). A harmonious peaceful beginning erupts suddenly they are forced to escape from the government agents. Natasha's character is filled with secrets, and she realizes that she must face her past when we are introduced to her sister's character Yelena Belova (Florence Pugh). As many KGB spy stories go, we learn that the two of them were sleeper agents in a covert operation while embedding them in a family living in Ohio. Black Widow aka Natasha is already a known as a fugitive due to the aftermath of the first Avengers' Civil War. She decides to seek shelter in a trailer in Norway. During this seemingly peaceful time, the Black Widow is taken by surprise. Taskmaster, an evil perpetrator, who is working for Dreykov (Ray Winstone) attacks her where she nearly escapes her death. She learns that Dreykov is the mastermind behind the "Black Widow" program that created young female assassins. New technology, controlling and abusive personality makes Dreykov a dangerous enemy. Natasha needs a plan and decides to reconnect with her old "fake family" including the bio-chemist, her mother Melina Vostokoff (Rachel Weisz, her father, Alexei Shostakov known as Red Guardian and her sister Yelena.
I loved this movie. The action scenes were well-done and fast paced. The plot was easy to follow despite the complexity. The music enhanced the mood even more than I expected from the other Marvel Studio films. The music stood out to me because they did an excellent job in particular with combining the fast paced action scenes. Furthermore, I enjoyed the back-story of the Black Widow character giving us more information on the development of her character and how she received her special training. Even though this will be Scarlett Johansson last MCU movie, she worked well with her co-star Florence Pugh, allowing her to shine. I thought that the Taskmaster's character was extremely well-done and he was very intimidating. There were moments where you could feel the audience jumped in suspense. For all of you Marvel fans, I can highly recommend this film since it is a perfect final story for the Black Widow. (Adrian Schoeneshoefer)